Taking place on Friday 16th November, at The Kia Oval, The Big Sleep Out will challenge you to abandon your comfort zone to support Big Issue vendors. Participants can sign up now for a reduced registration fee using the 50% discount code TBIF50.
Big Issue Foundation supporters will be bedding down in the stands of the Kia Oval stadium, following talks from Big Issue vendors in this night of education and inspiration. The evening aims to give supporters a better understanding of the challenges faced by Big Issue vendors in their journeys away from homelessness before giving them a small insight into the realities of rough sleeping.
With reports of homelessness being on the rise for the past seven years, with around 4,750 people estimated to be sleeping rough on any given night in England in 2017[1], the event gives you a rare opportunity to make a real difference.
The Big Sleep Out, which will take place from 9pm on Friday 16th November – 7am on Saturday 17th November, offers participants the opportunity to spend a night without shelter in solidarity with many Big Issue vendors who will find themselves sleeping rough at some point.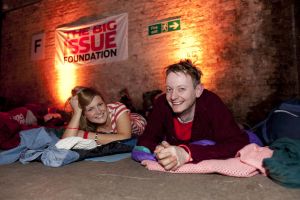 Joan, a past Big Sleep Out Participant, said: "It was such an amazing fundraiser. I now feel as though all misconceptions have been cleared up and I have a far better understanding of how exactly the charity helps its vendors, and I have so much respect for them. To be able to pick yourself up and be so determined to better their situations in any way they can is very courageous and inspiring!"
You can sign up as an individual for £12.50, or why not get a team of friends or colleagues together? Registration is now just £10 per person with the code if you sign up as a team of 5 or more! It's a great place to meet likeminded people, share an unusual experience and do something to support people living difficult lives across the capital and beyond.
"It was a really good experience – people were so friendly, and I got chatting to a few people within minutes of getting settled in" – Previous Big Sleep Out Participant
We're asking participants to raise just £350 per person to take part in this unique outside challenge and you have two months to reach your fundraising target after the event to support even more Big Issue vendors Paul to take positive steps away from poverty and exclusion.
Sign up now with the code TBIF50 here. For more information visit www.bigissue.org.uk/sleep, email events@bigissue.com or call 0207 526 3456.