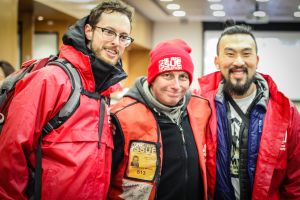 On the evening of Friday 3rd March 2017, over 300 walkers and Big Issue vendors gathered at St John's Church in Waterloo to take on The Big Night Walk, a 20km night-time walk around the capital.
Walkers were welcomed by fantastic volunteers, Big Issue vendors and Big Issue Foundation staff to the church to collect their maps and jackets, whilst listening to the beautiful sound of London City Voices Choir. Walkers were prepped for the night ahead with snacks generously donated from 9Bar, which were quickly snapped up, along with plenty of cakes, biscuits and Graze goodies kindly donated by City Harvest.
The evening began with a warm welcome from Stephen Robertson, Chief Executive of The Big Issue Foundation, who reminded the walkers why this night was so vital to the work The Big Issue Foundation do. Next, Big Issue vendor Bill from Bournemouth took to the stage to tell his story and how The Big Issue Foundation helped him "I was able to access the Vendor Support Fund to help buy essentials for my new council flat I've recently secured, making my new place feel like a home with all the pieces I need", showing the walkers how their fundraising makes a difference to Big Issue vendor's lives.
This was followed by a much-loved speech from James Bowen & Street Cat Bob, who thanked walkers for their support for The Big Issue Foundation. Lastly, CJ De Mooi warmed up the walkers with some fun stretches and helped create an exciting and buzzing atmosphere for the walk ahead.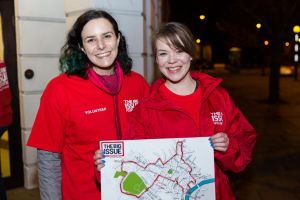 The walkers, joined by Big Issue vendors Bill, Sean, Lionel, Sue and Simon, headed off into the night, crossing the river Thames towards our first rest stop – Freshfields Bruckhaus Deringer, who are one of our Corporate Partners and take part in our vendor placement scheme. Here a short film about George, a vendor who benefitted from a corporate placement, was shown to walkers and refreshments were kindly provided by Freshfields.
Next it was time to head north through the City, towards St James' Church in Islington. Here the walkers were greeted by vendor Steve and his lovely dog Skye, alongside our team of energetic volunteers, to hot drinks and a selection of Primal Pantry bars to keep spirits up. As James Bowen & Street Cat Bob used to have their pitch nearby in Angel, this space was dedicated to a special display for these two.
Nearly 4 miles later through North London, many started arriving to our 3rd rest stop at Haverstock School in Chalk Farm, when the heavens opened and the rain ensued. Decorated by a selection of My Pitch stories from various copies of The Big Issue, Haverstock School provided the perfect connection to our work, as it has been a Crisis at Christmas shelter for the past three years. Urban Fruit helped keep walkers energised here with their baked mango snack bags. Big Issue vendor Paul helped volunteers meet and greet walkers, sharing his interesting stories concerning his time at his corporate placements with Simmons & Simmons & Network Rail at Liverpool Street Station with those who stopped off.
Not letting the rain dampen their spirits, the walkers continued on south around Regent's Park towards Baker Street, home of our next rest stop – University of Westminster Marylebone Campus, and a very popular mid-walk snack: delicious cookies from DoubleTree by Hilton Westminster. Here, stories and photos were shared about The Big Issue Foundation's work in Bristol, home to one of our TBIF offices, from Bristol vendors such as Paul and service broker Martha.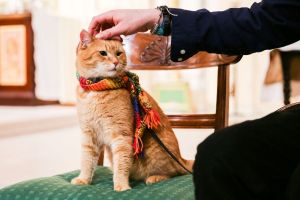 After a much appreciated sugar kick from the cookies, the walkers headed back south towards the river Thames, via Euston and Russell Square, to find our last rest stop – Conway Hall. The final boost came from Grace Foods' delicious Aloe Vera drinks, along with a last minute toilet break, in order to carry on and complete the last mile of the Big Night Walk. The final stretch saw a wonderful view from Waterloo Bridge over Southbank, and then the return to St John's Church in Waterloo began.
All walkers returning to St John's Church were greeted with cheers from our wonderful volunteers, and afterwards were given a medal to celebrate their successful challenge. Hot drinks and plenty of various flavoured MOMA porridge pots were thoroughly enjoyed by returning walkers, to keep them going whilst they made their journey home.
We were delighted to hear such positive feedback on the night, and we are glad our walkers, volunteers, and vendors enjoyed the event. Your support for this event has been incredible, and has helped raise over £72,000 which will allow The Big Issue Foundation to continue supporting vendors on their journeys away from homelessness across the UK.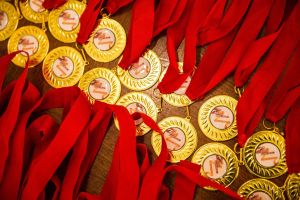 We'd also like to thank every individual and organisation whose support made the night such a great success:
St John's Church – our wonderful hosts for the start and finish point
All the vendors from around the UK who walked with us or met our walkers at rest stops
The 80+ volunteers who gave up their time to support the event through the night
All of our rest stop venues – Freshfields Bruckhaus Deringer, St James' Church in Angel, Haverstock School in Chalk Farm, University of Westminster Marylebone Campus and Conway Hall in Holborn – who ensured that all walkers could enjoy a break
The supporting companies who generously donated food and drinks to keep the walkers, vendors and volunteers in high spirits
Our fantastic speakers – James Bowen & Street Cat Bob, CJ De Mooi, and vendor Bill from Bournemouth
The phenomenal London City Voices Choir
Our photographers and film crew – Andy Commons and Marcus Jamieson-Pond
And finally, to each and every one of you who raised money for The Big Issue Foundation
Were you there? Check out our photo gallery from the night to see if you can spot yourself!
Join us this year on Friday 2nd March at Shoreditch Town Hall- sign up here!