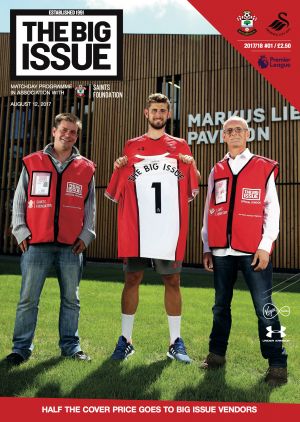 An exciting new partnership was launched this week between Southampton FC and The Big Issue Foundation!
Serena Crisp, Head of Partnerships & Philanthropy for The Big Issue Foundation, was looking to expand our partnerships beyond the traditional corporate setting and sports seemed like an ideal field to create opportunities for Big Issue vendors as well as raise awareness for The Big Issue group. Serena was able to cultivate a relationship with Southampton Football Club which has led to an ongoing partnership with their charitable arm, the Saints Foundation.
The new partnership kicked off this week with a special Southampton FC edition of The Big Issue magazine. The issue is being sold by vendors across Southampton and the surrounding area this week and will also act as the official match-day programme at their first game of the season, against Swansea City this Saturday 12th August. On match-day 14 vendors will be selling in and around the stadium and for those who live outside of this area it is also available to buy from The Big Issue Shop.
Our Area Service Manager for the South West, Simon Chilcott, and the magazines South Coast Team Leader, Kirsten Thomson, have also been instrumental in setting up an ongoing partnership beyond match day. The Saints Foundation and The Big Issue Foundation will come together to provide existing Big Issue vendors with the opportunity to undertake an eight week long employability training programme held at St Mary's Stadium, which will include work placements and guaranteed interviews for suitable long-term employment at Southampton Football Club.
Additionally, Saints Foundation and its partners will refer suitable participants from their programmes, including those delivered within the local community and at HMP Winchester, to The Big Issue's vendor recruitment programme.
Stephen Robertson, Chief Executive of The Big Issue Foundation commented 'I am delighted to note the launch of this exciting and innovative project. The match, the magazine and Big Issue vendors presence on the day marks a significant moment for this new partnership. The partnership offer of employment training and guaranteed interviews for Big Issue vendors is a terrific follow-up. It will create real opportunities that will help deliver real change for those vendors who are taking part'.