"We hope our efforts make a difference even if it is minute. It means a lot to help a charity with such a great focus."
Written by: Michelle Cuadra (pictured right)
Going against plenty of the preconceptions about punk this Underground Revolution event: A Crisis of Conscience – 40 years of Punk Festival was held in aid of Alan McGee's Musicians Against Homelessness and the Big Issue Foundation.
Last Saturday the 24th of September, Oasis guru Alan McGee teamed up with Hereford's popular Post-Punk band the Linerunners and local  music promoters' The Underground Revolution and brought a memorable all day Punk Festival. The music mogul started Musicians Against Homelessness earlier this year to raise funds for the homeless charity Crisis.
Musicians Against Homelessness is supported by Happy Mondays legend Shaun Ryder, Irvine Walsh, Cast, the Buzzcocks, Black Grape, The Jesus & Mary Chain and hundreds more bands.
Hereford Music Promoters The Underground Revolution devote their time to supporting bands and charities with a focus on social awareness, as well as local bands who otherwise would not have an outlet for their music.
They could not turn down the opportunity that was given to them by local band the Linerunners who were looking for a venue to put on an event for Musicians Against Homelessness. The UR were in the process of organising ' A Crisis of Conscience'  to raise money for the Big Issue Foundation and felt that both charities would sit side by side beautifully, so they joined forces to create what turned out to be a very memorable and busy event for charity.
What is 'A Crisis of Conscience 40 Years of Punk Festival'?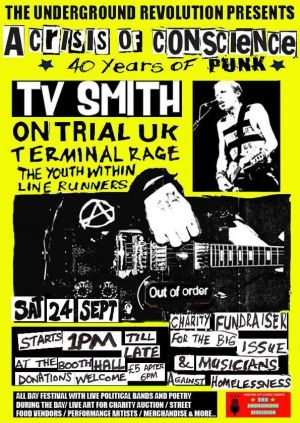 'A Crisis of Conscience' was an event celebrating 40 years of punk attitude, music and most importantly the charitable spirit that is part of the punk ethos. It raised funds to help support two of the nation's biggest homeless charities, The Big Issue Foundation and Crisis. It was an honour to work with both charities to bring forth awareness around an epidemic that can affect anyone at any time.'
The festival included Musicians, Poets, Dj's, Artists & Street Food, and was split into a day and evening line-up. Festival goers was asked to give a donation of their choice during the day, to ensure the event is open and accessible to all.
The day line up was made up of 4 acts, 4 poets, Live art for Silent Auction, Fire Eaters and Killa Tacos was on the premises selling their delicious brand of fresh and authentic tacos. Because nothing is nicer than tacos and beer!
In the evening there were 5 bands for £5. All profits from the night was split equally between both charities.
THANK YOU!
The Big Issue Foundation would like to especially thank Rich Lovell and Michelle Cuadra for their organisation of this. We would also like to thank everyone who got involved and to every single one of you who came out to support the night and raised vital funds for charity. You all are making a difference.
Here is a fantastic article featuring an interview with TV Smith about the gig from the night
Below are some photos from the night including: Auciton artwork from The punk tryptich by Simon Rogers and Society Sucks is by Draco Lee and photos of TV Smith who was the headliner for the night.