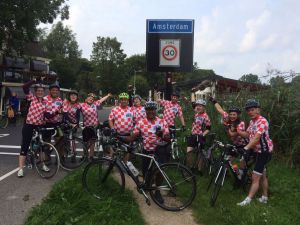 On the weekend of 19 September, I had the privilege of joining 11 other volunteers on a sponsored bicycle ride from London's Olympic Park to Amsterdam. We set off shortly after 8am.
Nobody told me there were mountains in Essex! Fumbling with unfamiliar gears on the bike generously lent to me by fellow vendor, Gary, I met with a law of diminishing returns from the first hill out of London – the more furiously I pedalled, the slower I went until it was faster to get off and walk. What I am told are rolling, gentle undulations of virtually flat Essex seemed to me like Alpine passes. So despite setting off first on the grid, in the yellow jersey – pole position – after each stop, I trundled in around 15 minutes behind everybody else, to cheers and applause at the next. Foxes, squirrels, various birds, hedgehogs – a cat – there seemed no end to the variety of charming little animals we encountered squashed on Britain's country roads but, luckily, the bulk of our cycling was done on quieter lanes.
Former vendor Dean and the others kindly took turns sharing the rearguard with me. Office workers, lawyers and a West Midlands police officer numbered among us and our diverse little band quickly built up a great team spirit.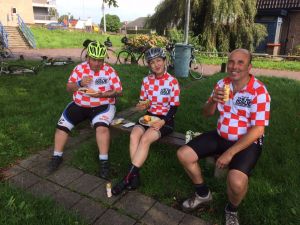 Mountains and splattered creatures aside, Essex is a pretty county. We stopped for lunch in the village of Blackmore, which still retains some 13th century buildings, and spent the afternoon wending our way to Harwich. I boarded the overnight ferry to Hoek van Holland slightly disappointed not to have run into Towie's Jessica Wright (known to enjoy a bike ride) but elated from spending a bright, sunny day in superbly convivial company.
Day two. One of our riders stumbled walking off the ferry and grazed her knees quite badly. A true hero, she saddled up with the rest of us to complete the journey up to Amsterdam. We started out along the top of a dyke by the river Maas, soon passing a giant 'gemal' – one of the pumps that churns water out of below-sea-level West Holland and dumps it into the rivers and North Sea. Dykes and waterways are omnipresent – at one point we spotted a canal soaring over the road on an aqueduct.
In the Netherlands, even the king cycles around and there is no such thing as a street without cycle provision, so our way through neat, beautiful countryside, pleasant villages and the stunning medieval town centre of Delft – was mostly traffic free.  En route, we took the opportunity to tell many of the politely curious locals we met about The Big Issue Foundation and its work, of which they heartily approved.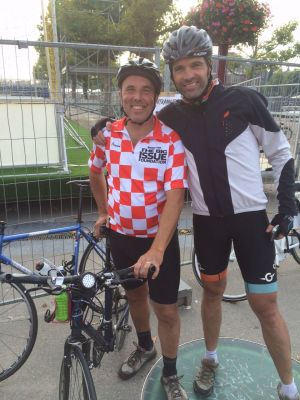 Nearing the end of our journey, we regrouped – even in pancake-flat Holland I had maintained my steady stalwart pace! Then, we rumbled into the cobbled suburbs of Amsterdam – after an 18 hour bike ride, we all react differently – cobbles can either serve to nudge feeling back into a numbed bottom or be that final punishing pummelling – a sobering reminder from the Calvinist Dutch not to take undue hedonistic pleasure from the freedom of wheels. I had used so much zinc cream that I glided smoothly over all obstacles.
We wheeled together, ringing our bells, tooting horns and cheering, through the arch of the Rijksmuseum in the mid afternoon after another great day's cycling and later that evening shared a celebratory meal and were awarded medals and certificates.
But we didn't do it for the glory or the medals. No, we did it to raise funds for The Big Issue Foundation that does so much to support vendors through what might otherwise be life-wrecking hardships. The twelve of us managed to raise just under £13,000 if you feel inclined or inspired, please don't hesitate to register for next year's cycle challenge. I hope to have moved on from vending this time next year, but if you do join the team in 2016 you are very likely to find me cycling enthusiastically alongside (or some way behind) you!