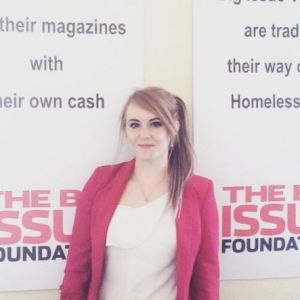 After finishing my degree in Sociology and Politics I found myself with a month left on my accommodation contract and far too much time on my hands. One month was too short a period of time to get a job, but long enough to question how many episodes of Game of Thrones and Orange is the New Black were healthy for the average human to consecutively consume in one day.
After a week or of feeling like a drop out from the human race, I decided that I wanted to revalidate myself as a contributing member of society, rather being stuck in the bubble that is student life (and sucked into the black hole that is Netflix).
So I shut my laptop and gave The Big Issue Foundation a call. I sent them a copy of my CV and the very next morning I was sat at my desk and set straight to work.
At first I was given the task of data input using Raisers Edge software, which is a database commonly used in the charity sector. I was then offered more responsibility and progressed to researching major donors, contacting corporations on behalf of the organisation, writing press releases for up coming events such as The Big Sleep Out and London to Amsterdam Cycle 2015 and doing a site visit and supporting with a risk assessment. These are just a few examples of how I've spent my time at The Big Issue Foundation. Whilst I was nervous at first, I truly felt that I could be myself here. Everyone was so welcoming and friendly; it was such an inspirational office environment to be a part of.
The Big Issue Foundation offices are unlike anywhere I've worked before. Situated in the heart of London, the iconic building serves as not only the home of Big Issue, Big Issue Invest and Big Issue Foundation, but also the distribution team, who are located in the ground floor of the building.  This means that all employees of the Big Issue go to work with a clear sense of purpose, chatting at catching up with the vendors who come to collect their magazines for the day. This prevents alienation that other office workers may have from their work loads as we are constantly reminded of the harsh reality that homelessness still exists when it could be easily prevented.
Despite The Big Issue being a nationally recognised brand, The Big Issue Foundation only receives 3% of its funds through government subsidies; the remaining 97% is raised by a minute team of hardworking fundraisers. These vital funds help us to connect Big Issue vendors with the essential support and solutions that enable them to rebuild their lives and journey away from homelessness throughout the entirety of the UK. This is a clear reflection of how phenomenally hard working and efficient this small team is.
It has been such a privilege to have been able to spend the month here. I would like to take this opportunity to thank The Big Issue Foundation team for all the time they've invested in me. This priceless experience has allowed me to improve and explore my skill sets in a professional work environment; this is simply invaluable and will serve as great preparation for the entry into the working world as a graduate; something which I was previously terrified of!
I would encourage anyone who was thinking about volunteering at The Big Issue to go for it! I can't recommend the time I spent here highly enough and I am so pleased I made that phone call.
I will be volunteering at The Big Sleep Out on August 7th, if you'd like to join me you click here. The Big Issue Foundation are currently looking for an Events Volunteer, support on administration and communications for events and community activities such as The Big Sleep Out, The Big Knitathon and The Big Night Walk. This is an exciting role with a chance to get hands on experience of events and the homeless charity sector and I would definitely advise anyone interested in gaining more experience to apply here.
For more information and to apply visit our recruitment portal.