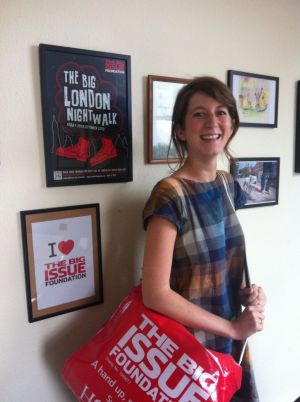 By Anna Verey
Volunteering at the Big Issue Foundation has made a Big difference to my life.  Anyone who does not have a full-time job will know that a lack of structure and team-work can take its toll, making your mind more wobbly than jelly.  Mid-way through my part-time Master's degree in Social Psychology, with a focus on veteran mental health, transition and military spouses I found myself needing to expand my horizons and gather experience in an applied setting.  My passion to work on behalf of those facing homelessness had been burning for many years, and the opportunity to work on the side of justice sprung of the page for me as I scanned for jobs.
Working at the Big Issue Foundation has given my week a structure and a purpose.  To sit among an incredibly motivated team of talented young people, who have years of experience in their fields of event management and fundraising has given me the chance to taste and savour many ingredients of a social business.  One of the most exciting things about volunteering with the Big Issue Foundation is that you never know what the job of the day will be.  The thrill of actively living out your compassion when meeting vendors on the streets, or persevering in editing your first article, researching major donors and letting your creative juices flow in event management have all been my weekly bread.
As if divinely appointed, The Big Issue Foundation was looking to carry out research into the population of their vendors who were ex-services at the exact time I walked through the door.  Having the opportunity to present key narratives that concern the military community to Big Issue staff, as a means to expand understanding of the topic, which was exhilarating.  I have learnt from a generous, imaginative, flexible and dynamic Head of Individual Giving how our skills and strengths can lock heads with a heart and desire to help those who face the battle of survival on London's streets daily.
I know that each day of volunteering at the Big Issue Foundation will have real relevance to those we seek to support work.  Working in fundraising has taught me that small amounts of faithful giving can pave the way for the sustained help of those in need.  But most paradoxically that need is not just of concern for the socially and economically vulnerable.  The lack of meaningful work, structure, affirmation and drive that can come from not being part of the 'work-force' can make demand the most motivation, perseverance and commitment from any of us on our undulating career paths.
Each day at the Big Issue Foundation strengthens my understanding of the terrain of homelessness and has also opened up opportunities for me to learn what I love to do.  I am grateful for the chance to volunteer here and am delighted at the positive impact such experience is having on the rest of my life.  The Big Issue Foundation does what it says to all whom cross its path: it gives a hand up, not a hand-out.
Anna Verey
---
Anna was applying for jobs whilst continuing to volunteer at The Big Issue Foundation. We are delighted to say that she secured a great job and is now working as a Research Assistant at King's College in Military Health Research (at the KCMHR) in Denmark Hill.  Anna's work with us was very relevant to the job she got and she feels it helped her to secure the role by demonstrating a high level of dedication to the subject area. Anna is now interviewing military families who have a wounded, injured or sick soldier in their family unit, and is working on a project which is seeking to improve the services that are available to them, where possible.
Anna said "My work at the Big Issue Foundation, served as a valuable, motivating and friendly source of support and experience which really helped me to gain this position."