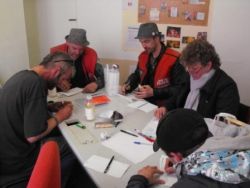 Our goal is to help Big Issue vendors reintegrate into society & move forward with their lives. However, vendors often live on a day-to-day basis because of the acute difficulties they face; it can be challenging to envisage a better future for themselves, let alone to plan for it. It was with this in mind that 'Aspirations Week' was created.
'It's a chance to get vendors to think about enjoying life rather than just surviving it, & reminding them that they do have a future to plan for.' Ceri, Assistant Service Broker in Nottingham.
Ultimately the Big Issue exists to help vendors move away from marginalisation & poverty; 'Aspirations Week' encompasses anything that can assist in that process.
This year's 'Aspirations Week' was a huge success, with 259 vendors taking advantage of the activities & workshops on offer nationwide! The themes for the week included education, employability skills, hobbies, social & family networks, finance, & health & fitness. Various incentives were offered to encourage vendors to get stuck in to the activities including refreshments, toiletries, reduced price magazines, competition prizes, help with transport costs, & of course we promoted the long-term benefits inherent in many of the workshops & drop-ins.
In preparation, vendors were asked to fill out questionnaires & surveys which would elucidate their hopes & goals for the future; in addition, many vendors had one-to-one discussions with staff. As a result, the Service Brokers at The Big Issue Foundation were able translate these into meaningful action points for each individual.
Community involvement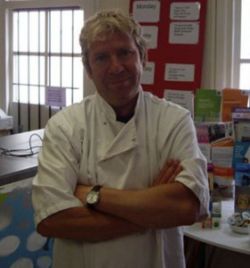 Aspirations Week is always a fantastic opportunity to forge relationships with local organizations & to raise public awareness of our work.
Bath vendor Ian Duff gave an inspiring talk at an event run by the Mayor Councillor Malcolm Lees, focusing on vulnerable people in the city. He spoke about the people helped by The Big Issue & about his plans for his fantastic social enterprise & catering business Duff Cooks. In addition, a team of 3 enthusiastic volunteers from Lloyd's Bank joined vendors on the street to try their hand at selling the magazine. This was followed by a productive discussion on sales techniques, & was also attended by a reporter from the Bath Chronicle who wrote about the experience.
'I now realise what a hard job you guys do every day & I will never pass a Big Issue vendor again.' James Shiner, volunteer.
In Bournemouth, Big Issue Foundation staff & 1 local vendor gave a presentation to BA Sociology students at Bournemouth University on moving away from homelessness.
Employability
Our vendors strive to work their way out of poverty hence 'employability' is a big focus during the week. CV workshops were offered by Barclays Bank in Birmingham & Oxford, by The Renewal Trust in Nottingham & by the teams in Bath & London. Productive discussions were had around the country regarding interview techniques, applying for jobs & the kind of training that might be helpful for achieving employment goals.  For some of our vendors, volunteering is a good way of transitioning between unemployment & paid work. Volunteering drop-ins were held at various offices, with vendors seeing the benefits of using their own new or pre-existing skills to help others & give back to the community, which ultimately contributes to improved confidence in their own abilities.
Education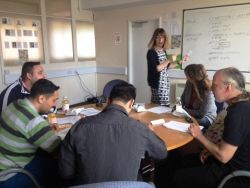 Not all Big Issue vendors are native English speakers, so the week was a great opportunity to work on language skills with drop-in ESOL sessions in Birmingham, Bristol & Nottingham. There were various college drop-ins & opportunities for vendors to be signposted to educational courses. Birmingham & Bristol ran reading groups; Nottingham & Southampton vendors were offered guided tours of their Central Libraries; vendors around the country were encouraged to register at their local libraries, & were pleasantly surprised when made aware of the variety of resources available, especially the regular free IT classes & the chance to use the computers. Bath organized a 'Let's Get Digital' challenge assisted by Space 2, Julian House Meaningful Occupation Team; basic & intermediate IT courses were promoted & levels of IT knowledge were assessed.  In Bournemouth the educational drop-ins were a particular success, with two vendors enrolling on QCF level 2 customer service courses! Lastly, Edinburgh held an information session to help Roma vendors enrol their children at school.
Creativity
This year was particularly good for getting creative juices flowing. Nationwide, vendors were encouraged to submit pieces of art, design & poetry to the 'Street Lights' section of The Big Issue magazine. Bath coined its own 'Creative Zone', offering art materials with which to experiment & holding a creative writing taster; Birmingham offered a poetry-writing session; Glasgow held a poster competition relating to individual aspirations; Edinburgh offered an arts session & is keeping a canvas in the office for vendors to contribute to on an ongoing basis; & Nottingham offered an art workshop with a guided tour of the latest exhibition at Nottingham Contemporary (including live music & a complimentary drink). Photography competitions were held in Bath, Glasgow & Oxford – vendors were provided with disposable cameras & given the task of taking pictures relating to theme 'My Pitch', being encouraged to be creative & branch out as much as they wanted. In Oxford it was even judged by the chair of the Oxfordshire Photographic Society, with a £65 prize for the lucky winner along with publication in Street Lights!
Hobbies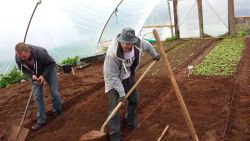 It is always important for vendors to maintain a sense of who they are & what they enjoy regardless of their situation, especially as it gives them something to hold on to when things are difficult. On top of the aforementioned creative endeavours, we gave vendors ideas of the kinds of hobbies they could be involved with & they were signposted to local clubs that might appeal to them. We discovered vendors with interests as diverse as horse riding, cooking, drumming & sailing! Vendors were also encouraged to embrace their green fingers in Bristol & Nottingham: a volunteer from Nottingham in Bloom gave vendors the chance to get stuck in to a bit of gardening, while The Severn Project in Bristol offered volunteering opportunities at their sustainable farm, with a view towards internships & potentially future employment there.
Finance
We were lucky enough to have several qualified volunteers giving out financial advice nationwide this year. This advice included how to save & use money more wisely & how to budget effectively.  The Big Issue Foundation was also keen to show vendors how to make the most of the 'Vendor Savings Fund', which can assist them financially with their long-term goals. We had lots of successful 'VSF' applications to help with hobbies, official identification, educational courses, & health & fitness.
Health & fitness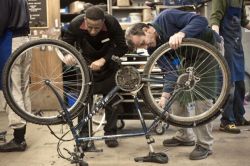 Being healthier is something a lot of our vendors aspire towards & for this reason, there were a variety of health-related activities offered this year. In Glasgow, vendors were offered a 6-week gym membership through Glasgow Life; a dental-health drop in run by the NHS organization 'Smile For Life' proved popular in Edinburgh; & in Bristol, vendors were encouraged to contribute £3 for a bike through the 'Earn-A-Bike' scheme at Bristol Bike Project. The scheme encourages self-reliance & is a great way for vendors to access a sustainable & cheap form of transport which can improve their fitness & wellbeing. More generally, vendors were given advice about healthy lifestyles & that includes the occasional treat! Crisis Skylight in Edinburgh kindly offered a pampering session for a couple of female vendors, in which they were shown how to make a natural hand cream from yoghurt & honey, & taught hand massage techniques.
Social & family networks
The themed weeks that we run give vendors the chance to socialise with each other in a positive & safe environment, brought together by productive discussion about improving their futures. In addition, we try & help vendors make connections with family members & the wider community. Nationwide, there was the opportunity for vendors to look into their family histories & draw up family trees with the help of local experts.
All in all it was a fantastic Aspirations Week with a variety of opportunities being offered, ultimately helping vendors to think about their futures in a positive & proactive light.
Support from outside organisations
We would like to wholeheartedly thank everyone involved with Aspirations Week this year. We were able to achieve such successful engagement due to the generosity of individual volunteers & the following companies & organisations:
Bath: Tomorrow's People; Lloyd's Bank; Developing Health Initiative; Bath University; Space 2, Julian House Meaningful Occupation Team; Bath Chronicle; Woods the Stationers; Prêt a Manger; The Body Shop; The Little Theatre; Boston Tea Party; Thyme Deli; Bath Coffee Shop; The Butter Pat
Birmingham: Citizens Advice Bureau; Barclays Bank; Crisis Skylight; Birmingham New Library, Prêt a Manger
Bournemouth: Onset Bournemouth; Bournemouth & Poole College; Bournemouth University; BEST training; NHS; Bournemouth Street Services; National Careers Service; Addaction; Bournemouth Council for Voluntary Service
Bristol: The Severn Project; Bristol Bike Project; Scott Cinema; Prêt a Manger; Lush; Tomorrow's People
Edinburgh: English as an Additional Language & Hospital Outreach Teaching Service (both part of Edinburgh city council); Crisis Skylight; NHS Smile for Life; Social Bite; St John's Church; Lush; Prêt a Manger
Glasgow: Gorbals Library; Glasgow Life; Gorbals Leisure Centre
London: Crisis Skylight
Nottingham: Nottingham Community & Voluntary Services; Nottingham in Bloom; New College Nottingham; Basic Educational Guidance in Nottinghamshire; Library Language Café; The Renewal Trust; Nottingham City Libraries; Nottingham Contemporary; Prêt a Manger; Notts County FC; Broadway Cinema; MFA Bowl; The Larder; Victoria Leisure Centre
Oxford: Crisis Skylight; Aspire Oxford; Barclays Bank; Prêt a Manger; Ruskin College