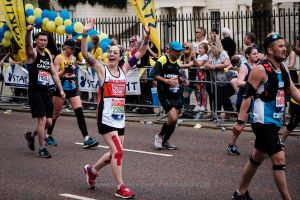 Were you lucky enough to win a place in this year's London Marathon ballot? Then join #TeamTBIF and run to end poverty and exclusion for Big Issue vendors? Whilst our charity places are full, we are still welcoming own place runners to join #TeamTBIF today.
Last year, our Marathon team raised over £15,000 and this year, we want to raise even more! Join #TeamTBIF and you'll receive a Big Issue Foundation running jersey, support and advice for your fundraising and a top-quality cheering team on the day.
Not only that, but you'll be in great company too, fundraising alongside runners who are passionate about changing lives for Big Issue vendors. Our runners are already doing amazing things in preparation for the 2019 London Marathon:
Dorset based Cliffe, taking on his first marathon to celebrate his 60th birthday, has already tackled his first ever road race and raised nearly £1,000. We wish him luck in his next race, The New Forest Stinger!
Deputy Station Manager Jamie has been out shaking his buckets to commuters and tourists alike, raising an incredible £2,000 so far. Go Jamie! If you're passing through Leicester Station, keep an eye out for him!
Perhaps the most innovative of our marathon fundraisers to date, Rob and Chris have created their very own escape room, raised over £2,500 and been featured in their local press. If you're near Hinckley, why not book in and challenge yourself?
Have you got a great fundraising idea to try out? Or just fancy setting up an online fundraising page and seeing what your friends and family can contribute? No matter how you try or how much you raise, we'd love to have you as part of the team!
"It is, of course, a tough challenge. But the cheering crowds, the pounding beats of the live bands, the memories of those months of winter training, and, most importantly, the knowledge that you're doing this for a fantastic cause, is just enough to keep you going all the way to the finish line on the Mall." Jonny, past #TeamTBIF London Marathon runner
Through each early morning jog or long Sunday slog, you can know that each step is for Big Issue vendors. Without dedicated fundraisers, we couldn't change lives.
"The Big Issue has been a huge part of my recovery. Without it I wouldn't have the job I now have, the friends that I now have, some of the clothes on my back, some of the food in my cupboard" Matthew, Big Issue vendor
Help more vendors like Matthew move away from a life of poverty and exclusion.
Sign up to join our team here, or get in touch at events@bigissue.com.