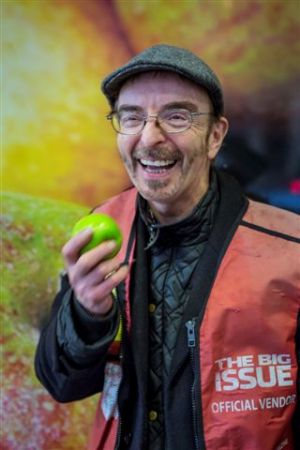 George, who usually sells the Big Issue outside the BBC broadcasting house, is featuring in Historic England's new 'I am London' exhibition. The exhibition aims to explore London's identity through prism of its inhabitants and historic buildings. He will join a diverse range of other Londoners including Professor Lord Robert Winston, a beefeater, a 7/7 paramedic and a DJ, all of whom are sharing their own experiences of the city by selecting an historic place or building that is particularly significant to them.
George's story
Until a few years ago, George worked for the NHS in Scotland, and had saved up enough money purchase a semi-detached house with his partner. However, following the financial crash, he lost his house, job and partner, and after tragic deaths in the family, he found himself on the streets of London, "totally unprepared", with only a light-duty sleeping bag.
He had originally travelled to London to find work and develop his newly established business (editing medical articles by authors for whom English was not their first language), but the high travel costs and the death of a cousin with whom he had been planning to stay left him impoverished and homeless. A big city can be isolating to anyone without a support network, and George was "a stranger to London, I didn't know anyone or anything."
However, working with the big issue has helped to get him back on his feet, and has given him the space to focus on growing his business, and he is now "looking forward to the day when I will be buying The Big Issue rather than selling them."
The exhibition
George has chosen All Souls Church as his historic location, revealing the part that it and the city as a whole, have played in his experiences of homelessness.
It is not the only part of the city that he feels represents important aspects of London's ethos and role, though. Reflecting his scientific background, George says that the buildings that represent scientific progress, both historical (such as Darwin's Down House), and modern (such as the Francis Crick Institute) exemplify London's identity as "a world centre for hope and a better future… it is motivating to be surrounded by such sites that have striven to improve the human condition."
His ultimate choice of All Souls Church for the exhibition was partly due to the range of services offered by the church to those experiencing homelessness in central London, such as ASLAN (All Souls Local Activity Network). This an example of the way that the city, through "its provision of hope to the most marginalized in society" has come to be seen as "the gold-standard for care of the homeless".
If you would like to see London through the eyes of George, and 58 other Londoners, visit the exhibition, which is located near King's Cross and runs until early September.
About the Exhibition:
Location: Window Galleries 3 and 4, Central Saint Martins, Granary Building, 1 Granary Square, King's Cross N1C 4AA
Dates: 11th July- 04th September 2016
Times: 10am – 8pm, Monday to Sunday
Price: free