Big Issue vendor Dave Martin is also an artist and recently had his own exhibition in London.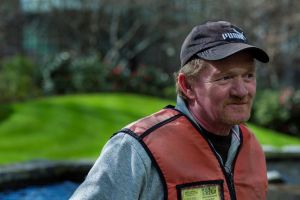 Dave, who has been a vendor for 8 years, started working on his artwork while on a corporate placement organised by The Big Issue Foundation, at the Northern Trust Bank in March 2016.
His love of Henri Matisse inspired him to try his hand at producing his own artworks, comprising abstract designs made from coloured card. By the end of that year he had completed 70 designs and has continued to create ever since.
Dave, who has a staple of regular customers at his Hammersmith pitch, struck up a conversation with a customer which would lead to an unusual partnership with data science company dunhumby.
Joseph Falzon, senior creative and production lead at dunnhumby, helped drive the idea to host an exhibition for the vendor.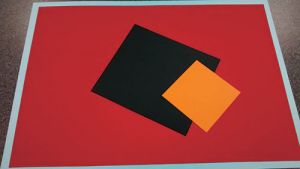 "It came about when a group of us from dunnhumby did the Centrepoint Sleep Out last November. After that we decided that it would be good to help someone specifically in our local community in some way.
"Dominique Evans [a client manager] met Dave outside Tesco and was chatting to him and discovered that he was a budding artist.
"We then got the idea to host an exhibition of his work where he could sell prints. That way we felt that we would be helping him achieve an ambition whilst helping him to help himself. I've been chatting to him since to organise this event and am enjoying getting to know him."
Dave previously had artwork displayed as part of an exhibition in association with homelessness project Shine but this is the first exhibition solely of his work.
"A lot of people have said that they like my work and I have sold a few bits and pieces," said David. "I've shown my art to a few of my customers and they like it so I thought it would be quite popular."
You can currently purchase prints of David's artwork in The Big Issue Shop here.