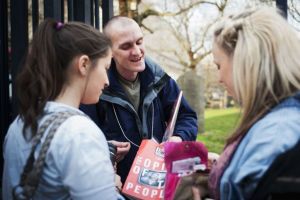 Friday January 11th 2013 started much the same as any other day. I had my usual breakfast of Rice Krispies, then made my way to the Big Issue Office on Summer Lane, Birmingham.
I arrived at the offices at approximately 9am, and asked to book the Union Street pitch, at which I heard a mumble behind me. Turning around, I found it to be Wayne, another Trainee Vendor. He had wanted to work Union Street, so I said he could have it, and I would work Colmore Row/Pigeon Park instead.
I had no idea that this would be the last time I would see him.
Wayne was a quiet man, about 5 foot 10 inches tall, and had a couple of day's stubble. He was 32 years old, same as me.
After a brief chat, I headed off to my pitch on Colmore Row.
It was a quiet day, and business was slow. You would see various other vendors during the day, most of who would stop for a brief chat on the way to their pitch.
Colmore Row is one of four 'Training' pitches, along with Cherry Street, Union Street and Corporation Street.
One of the Vendor's I saw that day was Ian. Ian was well known around the City Centre. He was one of the 'faces' of the Big Issue community, having been a vendor for a long time. When there wasn't a trainee there, he would quite often work on the Colmore Row pitch. He always had a kind word, and offered advice to me as a new Vendor.
I left the pitch at about 4.30pm to return to St Anne's Hostel in Highgate for my evening meal.
I slept well that night, probably due to the cool fresh air of the day.
After my breakfast on the Saturday morning, I had a look on the BBC News website. There was a headline that caught my eye. 'Two men stabbed to death in Birmingham City Centre'. My heart sank. I read the article, which contained very few details. Living around a big city, this kind of story happens all too often.
I headed out to sell some copies of the magazine. The City Centre was a ghost town. What is usually a bustling City, was eerily quiet. After spending three hours in the cold without selling a single issue, I decided to call it a day.
Upon returning to the Hostel, and having made a cup of tea to warm my cold bones, I checked the BBC Website for further updates. There it was in big, bold print. Both men had been Big Issue Sellers. I felt sick. I had a feeling of unease when I had previously read about the incident having been on Union Street. I immediately thought of that previous morning, and then my mind turned to Wayne. "Please, don't be him", I thought. It was. I couldn't help but think, "What if…?".
What if I had been earlier to the office, booked the pitch and not seen him. That should have been me. What if I hadn't been on Colmore Row? Maybe Ian would have been on that pitch, maybe he would still be alive, maybe I wouldn't.
However, if there is one thing I have learnt in life, it is not to dwell on what ifs.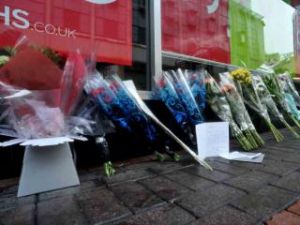 It brings to mind a quote by one of my heroes, the late, great American Comedian, Bill Hicks. "The eyes of fear want you to put bigger locks on your doors, buy guns, close yourselves off. The eyes of love, instead, see all of us as one.". "If you let far in, you allow the Demons to run amok."
Theses senseless killings would instil fear to many people, but this will only serve to close ourselves off to the beautiful experiences life has to offer. Only through love and acceptance can we move on and put these incidents behind us.
Unfortunately, this kind of thing happens every day, but if we don't want our civilisation to crumble into anarchy, we must move on.
We will always remember those who have fallen by the wayside, for whatever reason, but we must always remember what their lives meant, not what their deaths mean.
By Neil Harvey