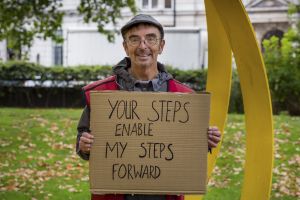 The Big Issue Foundation are pleased to introduce our first ever virtual event- The Big Step Challenge!
A virtual event means that this is a challenge that you can do by yourself, or with friends, from absolutely anywhere – you choose the location and all you need is a phone or computer to monitor your challenge. We're asking you to walk 10,000 steps a day for two weeks, raising £100 while you to do ensure positive futures for Big Issue vendors. From the increasing success of our Big London Night Walk, we're thrilled to introduce this event and all the opportunities it creates for fundraisers across the UK, and even the world!
Big Issue Foundation CEO Stephen Robertson commented:
"This is a terrific addition to our events portfolio. I am delighted that we are truly going global!! As long as participants under take their challenge between the given dates then I hope we will see this event happening around the world! Please do take part in the knowledge that the money we raise will help change lives for good"
Each step you take and penny you raise will ensure Big Issue vendors can take positive steps forward, away from a life of poverty and exclusion. Star of our winter Newsletter, Matthew said: "The Big Issue has been a huge part of my recovery. Without it I wouldn't have the job I now have, the friends that I now have, some of the clothes on my back, some of the food in my cupboard." Your fundraising will enable more and more vendors like Matthew to take the steps they need, with the support of the Big Issue Foundation, to rebuild their lives and determine their own pathways to a better future.
You can register for the Big Step Challenge today for just £5 and find out more here.