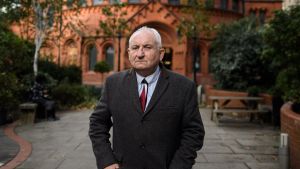 Big Issue founder and cross-bencher at the House of Lords John Bird has taken a fresh stand against one of the main causes of poverty this summer as he launched his private members only bill aimed at making reasonable credit more accessible for renters.
Lord Bird hopes The Credit Worthiness Bill will "level the playing field" for a generation that many are referring to as "generation rent".
Currently 11 million people across the UK live in rented properties, and almost two out of three people aged under 45 are having to "put their lives on hold" because they cannot find suitable housing. The rental payments made by this vast number of the population are not currently being recorded or recognised in the same way mortgage payments are. As a result, some of the country's least well-off pay the most to borrow, including repayment contracts for white goods, utilities and mobile phones.
Lord Bird's bill seeks to "help reliable rent-payers get the same advantages as reliable mortgage payers" by ensuring that consistent rent payments are viewed in the same favorable light as mortgage payments, hence helping renters access reasonable credit. The bill would achieve this by obliging credit service providers to take rental payment data and council tax payment data into account when considering credit.
This is not the first time the issue has been raised, and earlier this year a petition was launched demanding that "paying rent on time to be recognized as evidence that mortgage re-payments can be met". The petition received over 147,000 signatures before it was closed early due to the general election.
If we can help more people get better credit files and scores, we can help more people move further away from poverty
This discussion can only seem more significant in the wake of the Grenfell tower tragedy, and whilst the issue of poverty policy has been addressed by the country's leading politicians including Theresa May, Jeremy Corbyn and Nicola Sturgeon the issue remains one of the most concerning for young people in the UK.
The Big Issue have been active in championing increased awareness and stronger governmental action regarding the prevention of poverty. If you are passionate about ending poverty and want to get involved- why not join the big issue' #activistarmy and challenge your local MP on how they intend to combat poverty, work for better literacy, and offer routes towards better futures rather than simply bandaging up issues and continuing on.