A major focus of The Big Issue and The Big Issue Foundation is financial inclusion for vendors.
Big Issue vendors were reporting that more and more customers said they have no cash and therefore can't buy a copy of The Big Issue. This obviously has an impact on vendors sales and therefore their income.
This isn't the biggest surprise as the UK is now making contactless payments up to 200 million times a day. This means 80% of total payments in the UK are now made via contactless with approximately two thirds of the population using this payment method.
The Big Issue has been working on several schemes to implement contactless payments for vendors. The Big Issue had it's first trial with iZettle in 2018 and partnered with them in 2019 to provide low cost devices for vendors. iZettle offers Big Issue vendors the devices for just £9 (normally £35) and charges a reduced transaction fee of 4p per £2.50 transaction.
Tony Flynn, 62, who sells the Big Issue in Barnstaple, Devon, said that the card reader had made a huge difference. "Just about every other day I am hearing someone say, 'Ah, you have a card reader, great, I don't have any change.' I get about four or five card payments a day. It definitely has increased the number of sales."
BBC Radio 4 show, The World Tonight (starting at 33:48), recently spoke to Big Issue vendor Dave Martin, "[Contactless] gives me extra sales. Sometimes people will say they've got no cash and I say I take card. Nine times out of ten they will pay for an issue by card."
Beth Thomas, Head of Partnerships and Programmes at The Big Issue, also spoke to the programme about how this is now just about financial inclusion but also digital literacy. To take payments, vendors are required to set up an email address and be able to use the app on their phone. Developing these digital skills is also supporting vendors to move back into mainstream society.
Vendors across the country that have purchased the device have reported positive results. Vendors at transport hubs, in particular, saw a big uplift in sales.
That was the case for Michael Hall, who sold The Big Issue at Bristol Temple Meads rail station until he recently secured full-time work at the WH Smith store near his pitch.
"The card reader really helped me and increased my sales by a third instantly. I made the clever thing of sticking some stuff around it so I could put the machine around my neck and I had about 20 stickers all around me so it was very-well advertised!"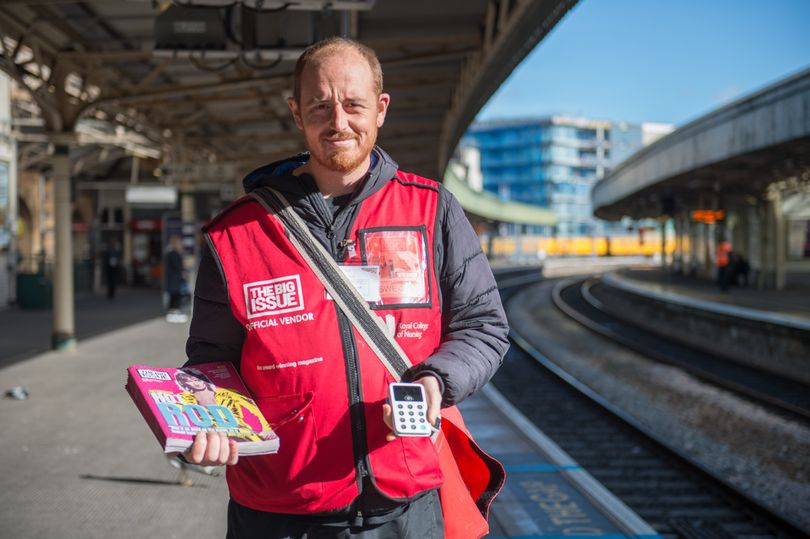 Michael was just one of 133 vendors went contactless in 2019 – approximately 11% of vendors have gone contactless.
The Big Issue Foundation has supported over 50 vendors to acquire contactless card readers via the Vendor Support Fund. We have also supported these vendors to open bank accounts, set up email addresses and set up the app to connect the device to their phones.
Our work is 100% reliant on donations – if you would like to continue to support our financial inclusion work and indeed our all round work to support vendors on their journey away from poverty and exclusion, donate here.