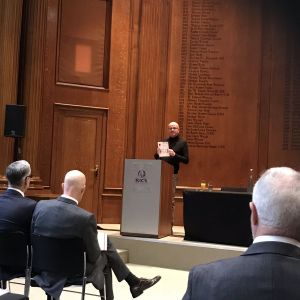 The Big Issue Foundation CEO Stephen Robertson has made a stand alongside leading thinkers to end youth homelessness.
The Royal Institution of Chartered Surveyors (RICS) has launched their Solutions to Youth Homelessness report with contributions from leading thinkers from charities to housing associations, developers to politicians, to present a full range of solutions that tackle the short, medium and long term causes of youth homelessness.
Among them is our CEO Stephen Robertson who calls for a "strategy to tackle the issue on multiple fronts" in a bid to bring down the escalating number of young people who have been homeless in 2018.
"First, we need government to implement a welfare regime that is sufficiently generous. Monetary poverty leads to poverty of opportunity, so we must help families to obtain a better future, rather than just fund the status quo," wrote Robertson in the report.
"Second, if young people do become homeless then we need to act quickly to reverse their fortunes. The many organisations in this space must work more collaboratively and more creatively to develop permanent solutions, rather than applying individual sticking plasters. And, if an idea works, let's give it the space, time and money to succeed – Housing First works so let's halt the trials and implement it properly.
"Third, young people need ongoing support to help them cope with the trauma of poverty and homelessness.
"Lastly, to enable this we need a shift in public perception. The public must recognise that young people are homeless because of wider social problems, not just housing."
Other innovative solutions outlined in the report include: reform of the private rented sector, new ways to help younger residents sustain tenancies that improves their well-being and mental health, and social housing options beyond the traditional with a need for creative housing use.
"This year 86,000 young people in the UK will be homeless – enough to fill the London O2 arena four times." said RICS chief executive Sean Tompkins. "Our 'Solutions to Youth Homelessness' paper is a step in the right direction as the advice and insight in it from leaders in their field, can help form a policy approach that is truly the result of sectoral collaboration. The truth is there is no magic bullet to this – but by working collaboratively and being bold in every area we can make a real and lasting difference."