From £2.50 to 25 miles (and a little bit more)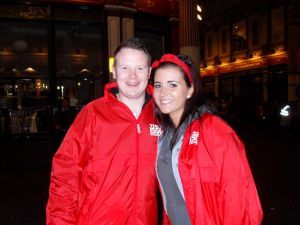 I bought my first Big Issue in 2007 from a vendor outside the HSBC Bank in Birmingham New Street.  It was a miserable November morning the type of morning that tells you winter is on its way.  It was the day after my birthday and in my sense of joy I was struck by this vendors life and how things must be so different for him.
It was a couple of pounds in those days, I didn't miss the money but the vendor (I wish I knew his name) was grateful for my support and conversation.  I bought a new issue every time then, still do, which was where my relationship with the Big Issue started.
In a matter of months I had convinced colleagues in my office to spend a corporate day selling the Big Issue on the streets with real life vendors. I suppose it was in these early days my desire to support the charity was founded.
Fast forward ten years and that relationship has stuck.
I have worked with the Big Issue on night walks, sleep outs, corporate evenings and the vendor days.  Normally though I am facilitating or helping to organise these events, this one however I am actually taking part in myself, the London Marathon, Sunday 23rd April, 2017.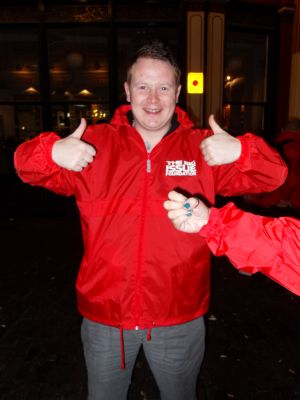 Now I've run before, once or twice.  Once for a bus, twice for a train!  I am generally sporty, the odd game of 5 a side, a round of golf at the weekend.  But that means nothing, absolutely nothing, when it comes to marathon training.  Trying to drag 91kgs of the human body further than 6 miles is painful!  It's not the cardio, I'm running that slow I don't have chance to be out of breath.  It's more the pain on the bones; the knees, the ankles, the hips, the back!  Yes I've had blisters and chaffing but nothing a big handful of Vaseline cant sort out, but the bones!! I'm up to 14 miles in my training, with a recovery time of three days!  The worse moment however is not the running, it's the bit when I go to bed and know that getting up in the morning will take a superhero effort to raise my body off the mattress due to the soreness.
I'm getting there though and I know I'm running for a charity that supports thousands of vulnerable people across the UK with food, clothing, accommodation and more importantly support and advice to help vendors get a step up in life that they need.  I'm running for all the success stories I hear from the Big Issue so that I can help make a difference to someone I've never even met before – can there be anything more powerful than that?
You can help me of course, every penny I raise goes to TBIF, it will be my bones that hurt but your pounds that make the difference.  If you want to sponsor me anything from 20p to £20 makes a difference and I will be grateful for every bit of support that I get.
I'll blog about my training, the day itself and there was even talk of a live video but we can see about that one.  One last request from me please, buy a magazine next time you pass a vendor.  Think about the difference your £2.50 will make, it's a lot easier giving that than running my 25 miles!!
Chadders