We are so grateful to the support received during the lockdown that helped to ensure Big Issue vendors did not have to face the struggles of the lockdown alone.
Vendors were left without an income for 15 weeks due to the lockdown. During this time, we received more requests for support than we have ever experienced before. Applications to the Vendor Support Fund were greater during this time than for the whole of 2019.
Alongside providing financial support, we supported Big Issue vendors to make benefits applications, continued to help vendors achieve Settled Status, connected vendors with local food banks and other services to help continue their support and made regular welfare calls to check in.
This was a challenging time for everyone and we want to say a huge thank you to everyone who helped during this time. We created this infographic to highlight some of the work you made possible. Thank you for believing in big Issue vendors.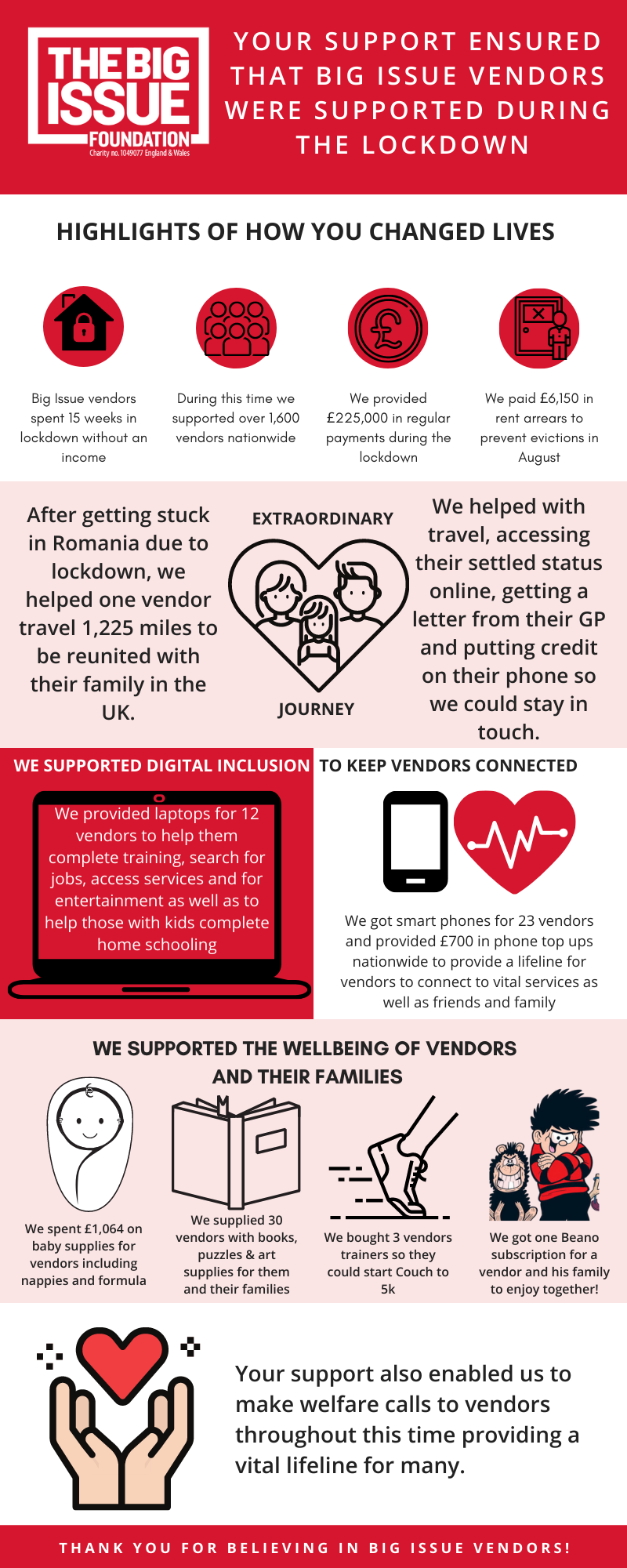 Highlights of how you changed lives:
Big Issue vendors spent 15 weeks in lockdown without an income
During this time we supported over 1,600 vendors nationwide
We provided £225,000 in regular payments during the lockdown
We paid £6,150 in rent arrears to prevent evictions in August
Extraordinary Journey
After getting stuck in Romania due to lockdown, we helped one vendor travel 1,225 miles to be reunited with their family in the UK. We helped with travel costs, accessing their settled status online. getting a letter from their GP and putting credit on their phone so we could stay in touch.
We supported digital inclusion to keep vendors connected:
We provided laptops for 12 vendors to help them complete training, search for jobs, access services and for entertainment as well as to help those with kids complete home schooling

We got smart phones for 23 vendors and provided £700 in phone top ups nationwide to provide a lifeline for vendors to connect to vital services as well as friends and family
We supported the wellbeing of vendors and their families:
We spent £1,064 on baby supplies for vendors including nappies and formula
We supplied 30 vendors with books, puzzles and art supplies for them and their families
We bought 3 vendors trainers so they could start Couch to 5k
We got one Beano subscription for a vendor and his family to enjoy together
Your support also enabled us to make welfare calls to vendors throughout this time providing a vital lifeline for many.
Thank you for believing in Big Issue vendors!