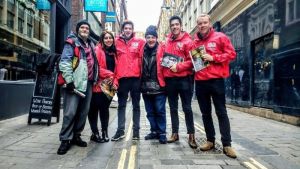 The global law firm, Freshfields Bruckhaus Deringer began its partnership with The Big Issue Foundation with a corporate vendor placement programme, through which the firm invites a Big Issue vendor to sell Big Issue magazines in the firm's staff restaurant. This vendor is then given the opportunity, at Freshfields, to develop skills that are relevant to their personal work aspirations through mentoring and work experience. The first Big Issue vendor to participate in the programme was Joel, who successfully went on to secure a job at Freshfields. Since welcoming Joel to the firm, Freshfields has supported multiple vendors from a variety of backgrounds through its placement programme.
In addition to running its corporate vendor placement programme, Freshfields now partners with The Big Issue Foundation in a number of additional ways, which include carrying out pro-bono work for the foundation, hosting events, investing into front-line services, and organising vendor days. These vendor days, which allow Freshfields trainees to work alongside Big Issue vendors as part of their induction programme, have been a great way to cement the firm's partnership with The Big Issue Foundation.
The vendor day experience is encapsulated below by Freshfields trainee, Jake:
'As part of our induction at Freshfields we were given the opportunity to volunteer with The Big Issue. Freshfields has had a long relationship with the charity and has a Big Issue vendor in its offices, allowing people to support the charity directly.
It's incredible how much The Big Issue has achieved and the positive impact that it has had on communities over the years. The content of the magazine is incredibly engaging, and I admire how the foundation's focus is centred around developing skills such as 'how to run a microenterprise', 'how to market a product' and 'how to create a positive impression' in order to be the most successful vendor possible. I sold the magazine alongside *Brahm in Old Broad Street.
After a day of working alongside Brahm, I had developed a lot of respect for him. Selling The Big Issue magazine is a tough job. Not long after arriving at Old Broad Street, I was struck by the variety of tactics that passers-by employed to avoid buying the magazine, and the extent to which members of the public ignored us as we attempted to do what Brahm does on a regular basis.
However, over time Brahm has clearly won a loyal set of customers. Multiple members of the public, who believed that I was working in competition with him, reprimanded me as a result. One customer commented that selling The Big Issue magazine in the same location as Brahm was a shameful thing to do because he 'works twelve hours a day, and everybody likes him'. I explained that I was working for Brahm rather than in competition with him, but it was great to see the extent to which he has won the public's support.
The more challenging aspects of the job certainly make the positive aspects of being a Big Issue vendor all the more enjoyable. When someone stopped to chat, or even politely declined to purchase a copy, it made us feel that we were making positive inroads and having an impact – or at least increasing the foundation's visibility. It's amazing what a difference human interaction and kindness can make to someone's day.'
* Brahm is now completing a corporate vendor placement at Freshfields.