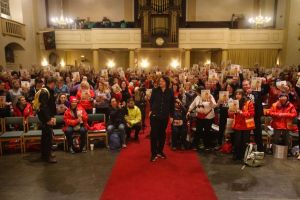 In less than six months, Big Issue Foundation supporters will be taking to the streets to raise vital funds for our work with Big Issue vendors. The Big London Night Walk takes place on Friday 2nd March and will see 400 Night Walkers conquer London's streets in a unique 13 mile journey like no other! Time is counting down and we expect this to be another sell-out event so find out more here and be sure to secure your place!
Whether a solo walker, or in a group, anyone and everyone is welcome to walk alongside Big Issue vendors and help tackle poverty. If you don't have anyone to come with, come along and make friends through this unique experience! One Night Walker last year told us how they walked with Big Issue vendor Simon and supported each other through the last 5 miles- 'what a lovely man, and an inspiration to us all'. For groups of five or more, you can transform your typical Friday night out and get a £5 discount each!
Before you set off, you'll be motivated on your way through hearing the inspirational stories of those who have been positively impacted by the work of The Big Issue Foundation- previous line-ups have featured James Bowen and Street Cat Bob, and Big Issue Vendor Bill. The Big Issue Foundation supported Bill to move from a tent to a home – and we couldn't have done this without your fundraising!
"One of the most powerful and magical nights of my life…, the 2017 Big Night Walk exceeded my already high expectations. I will definitely come back to participate in this event again!" Big Night Walk 2017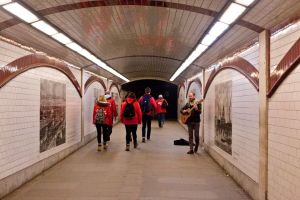 Along the way, you'll be supported by volunteers to ensure you have a safe journey and an enjoyable night and 3 rest stops providing hot drinks and snacks will be sure to fuel you for your challenge. Last year, a Night Walker told us how they were 'Blown away by the amazing service, support, and incredible volunteers' so be sure to come and find out for yourself!
In previous years, this event has had incredible support and popularity which only seems to be increasing and we're sure this event will be another sell-out soon. We are urging those who are interested to sign up soon to avoid disappointment. The Big Issue Foundation's other flagship event, The Big Sleep Out, sold out 5 months in advance.
Secure your place now for The Big London Night Walk to avoid missing what's set to be a totally unique night.
You can hear how former participants found the event here and on the 2017 video below.