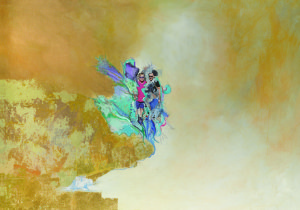 We are thrilled that Degard is donating 10% of their proceeds from the beautiful Art Exhibition 'Celebrities and Icons?' at the Signet Contemporary Art 378 Kings Road London SW3.
For one week only: 15th – 21st May (11am-6pm) see part of the exclusive collection 'Celebrities and Icons?' a collection of over 100 top A-listers and what their aetheric energy looks like (see artist statement below).
Gallery talks
16th May – Artists and Aetheric Art
18th May – Curation and the aetheric in 21st century from Royal College of Art
19th May – Degard painting highlights from the royal wedding in the gallery
20th May – Art at the Royal Society of Arts – why isnt there any?!
21st May – Dr Alan Rayner 'The Vitality of the Intangible'
Artist Statement
It all started with a blinding flash of light, or, more specifically, spotting a blue square in front of the chest area of someone chairing a meeting which I attended, more than 20 years ago. I had been observing these flashes, lights, energies all my life and I could never interpret them. But on this day, after I had seen 'the blue square', my friend at the meeting said of the chairman: 'Isn't it fantastic he is doing this work, given that he has just had triple by-pass surgery!' My ah-ha moment! I then understood that this 'blue square' was the memory and consciousness held around the body' or what I term today 'aetheric energy'. The square of the aetheric energy was the surgical invervention, the blue showed profound and massive healing and the location of the 'blue square' indicated where the operation had taken place thereby affecting the aura pure. From that point in time, I looked and looked, for knowledge anywhere, everywhere. What I discovered is that this knowledge is mostly lost. It is however deeply discerned by everyone, through vibe and karma; when you meet someone it is their own aetheric energy which informs you whether they seem to be 'your kind of' person. What I came to uncover is this 'blue square' energy is described in all its complexity by no one.