Dom's post Ride London Blog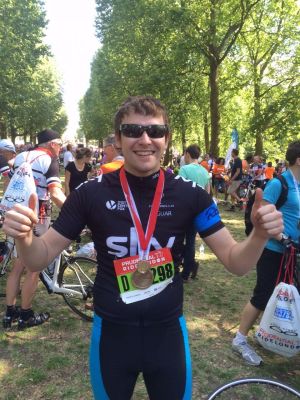 Taking on the Ride London challenge for the Big Issue Foundation was an overall fantastic experience! It was tricky to fit training in around my time-consuming job. I had to find time in the gym between sessions at work, and made the most of evening rides at Richmond Park. Riding the Box Hill – Putney leg in training was a huge help when it came to ride day. With other riders around me letting off the gas when we reached Box Hill summit, I knew there were still some hard miles ahead before the home straight.
I managed to gain some incredibly generous donations from friends and family, sold some uni books on eBay to get my total going, and ran a pub quiz and raffle alongside Justine from the Foundation. With a final push a couple of days before the ride, I sailed over my initial target, and managed to notch extra donations past that. My biggest tip for raising money on a ride is to start early, and think of ways to get the ball rolling. If you're getting close to your target with a few days to go, a final round up will get you comfortably over.
The worst part of the day was waiting for it all to start. From queueing at Richmond for the tube, to queueing at Stratford for my starting position, and then another half hour watching riders set off before me. It was a massive relief to eventually set off bang on time at 08:12, accompanied by London Calling on the loudspeakers.
The advice I'd been given the day before was 'don't go off too quick, and drink plenty of water'. Without thinking you're tempted to use your fresh legs to race through the eerily empty streets of central london. I made a mental note to hold back, which also allowed me to properly take in the amazing experience of the city becoming your own personal cycle lane. Canary Wharf, St Paul's and the huge morning queues at the museums in South Kensington were standout moments, as well as glimpsing the Mall and the finish line 95 miles before the end!
Before you hit mile 40, there's a brilliant tour of the towns and villages to the south west of London. A stop to refill my bottles at a local cricket club was in full blown carnival mode. And then you begin to reach the infamous 'Surrey Alps' Leith and Box hill. It's difficult to find a rhythm heading up in a packed group of riders with vastly ranging ability levels. The girl I passed on the final box hill twist listening to James Morrison might have been the most chilled out rider I saw all day.
After a couple more pit stops we were hitting Wimbledon, at which point I knew I wasn't far away from a recovery snack and a sit down. Cycling right past my flat was a great quirk of the route, along with the welcome downhill slope towards Putney Bridge. The sun was properly out for the final 5 miles along the north back towards Westminster, and as I swung left off Trafalgar square onto the Mall I went for the sprint finish. However, Mark Cavendish I am not, I'd timed it way to early and by the time I reached the finish I was absolutely blowing.
From being a complete Sportive novice to finishing the course in a shade under 7 hours, the ride made me keen to take on more challenges like this in the future. If I can motivate any readers to take part, it is definitely a case of 'if I can do it, you definitely can'
---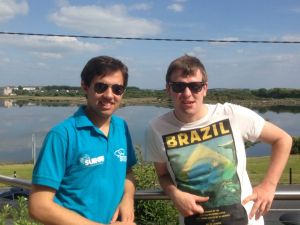 Jamie
Less than 2 months left until the Ride London 100, and last week as part of my preparation I took on the BHF London to Brighton bike ride. At 50 miles the course is an ideal test of my mettle. I was at Clapham Common by 7am and at 7.30 my group and I were off! During the first 20+ miles involved avoiding buses and gaining a true appreciation of tarmacked road but mostly it went by like a breeze! Stopping at just under halfway to rest and refuel with the 'team leader' of our group a little before 10, I couldn't stop myself from thinking this was going to be nice and easy.  The next 20 miles put me back in my place. Fatigue really started to set in after another hour of cycling, my legs grew heavier with each mile.
Ditchling beacon is, without a doubt the hardest part of the London to Brighton route. It was used in the Tour de France 1994 route, stands over 700ft tall and, well, it's terrifying. Coming into view like the crest of a tsunami, seemingly blocking out the sky, it is not the kind of challenge easily overcome with heavy legs. I'm sad to say I walked up the beacon; it was a long walk.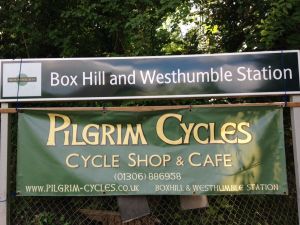 From Ditchling onwards, the route was downhill and, either because I was rested from the walk or for the last push to the finish line, I was cycling into Brighton with vigour, think about what I'd learnt from my first long distance cycle. The finish line finally came into view and I sped up appropriately.
I look forward to reaching the finish of Ride London as I pass Trafalgar square, under Admiralty Arch and finally cross the finish line after the 100 miles at on The Mall.
If you can donate to our fundraising page we would be sincerely grateful, thank you.
Dom
In 2014 I joined a group of mates in cycling across the Netherlands, and had an amazing time raising a little money  – so when Justine from The Big Issue Foundation asked if we'd be willing to tackle the Ride London 100 challenge this year and aim for a big charity total, we could hardly turn it down. It's a fantastic charity and I hope the money raised will work to improve the lives of the vendors across the country.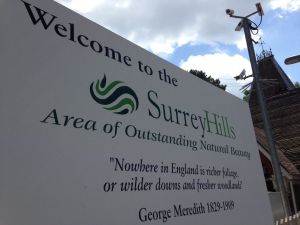 Like Jamie my fellow rider, I've been putting in a few training runs ahead of the event. Last weekend I headed to Box Hill, a little over 20 miles south of my flat in South West London. On a rare Saturday off, the weather was perfect for the run. The 4.3 km long 'Surrey Alp' is one of the big features of the Ride London route, and still bears the road graffiti from the Olympic road race 3 years ago. When the event comes around on August 2nd, I can honestly say I can't wait to get back up it –  the views were incredible and the climb much less intense than the weekend warriors on the cycling forums would have you believe (though maybe not after 70 miles in the legs). The ride back up through Leatherhead towards Kingston will be the last bit of countryside on the route, before the amazing experience of scooting through central London on closed roads.
With just over 30 days until the big event I'm hoping to get in a few more big runs before the big day – I'm already planning an 80 miler, as well as taking the bike up to Scotland to keep my training up whilst on a job in Glasgow. We're also plotting a few fundraisers to help see the totaliser rise, including a quiz in Vauxhall and we shall be revealing details soon! Please sponsor us and support more Big Issue Vendors on their journeys away from homelessness: https://bit.ly/1BUixE1