After almost 15 years at our Vauxhall Head Office in London, The Big Issue Foundation including, head office staff from The Big Issue Group, and sister company Big Issue Invest will be waving goodbye to Vauxhall and relocating our London Head Office to Finsbury Park.
This move will reunite us closer to our distribution and services team who moved to Seven Sisters Road last October.
The Big Issue Foundation's CEO, Stephen Robertson commented 'Extreme poverty, social and financial exclusion sadly remain a prominent feature of the capital city's landscape. The Big Issue has and remains unique in tackling these desperate issues with it's 'hand up & not a hand out' ethos. We are excited to be reuniting with our front line services, to work even better together to rebuild more lives. Finsbury Park is also an exciting area, on the brink of a large physical, social and economic regeneration programme, which will soon have even more to offer."
From the 11th of February 2016 our new address will be: The Big Issue Foundation, 113-115 Fonthill Road, Finsbury Park, London, N4 3HH. All our other contact details will remain the same: T 020 7526 3454 E Foundation@bigissue.com
Our Highlights
STIK SPRAYS THE WORD
In 2013 Stik a British graffiti artist based in London, known for painting large stick figures, did a BIG spray and produced an exclusive graffiti mural in our offices. This unique piece of art was done to symbolize hope and inspiration to the vending community.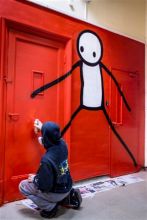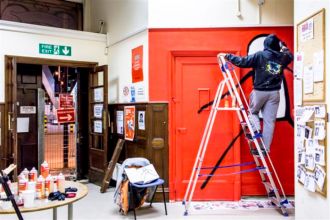 CHEWING GUM BEN
Chewed up, trodden on and transformed" – Last September artist Ben Wilson (AKA Chewing Gum Ben) donned his overalls and transformed this tiny piece of chewing gum into a portrait of George, one of our Big Issue franchisees.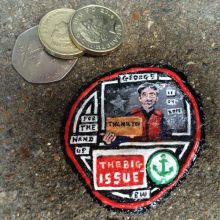 BIG NIGHT WALK REST STOP
Last March our Vauxhall office hosted the 3rd Big London Night Walk stop. Greeted with a very warm welcome, 300 walkers came through the doors of The Big Issue that night to hear stories from former and current Big Issue vendors, Viv, Simon and  Matt. Amazing cookies from Double Tree by London Hilton Westminster and Nurishment extra drinks from Grace Foods were the special treat at this stop! To register your place for this year's event click here #BigNightWalk