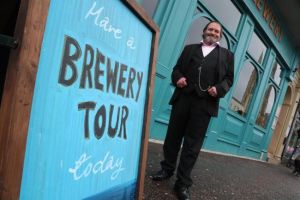 Photo courtesy of the
Bournemouth Daily Echo
We are delighted to share the news that former vendor Bill Webb has been nominated for the Rising Star Award at the 2019 BH Star Awards.
Once a Big Issue vendor, Bournemouth based Bill moved on to a new career in April 2018 as a brewery tour guide at Poole Hill Brewery, home of Southbourne Ales. This was a great fit for Bill who has always had an interest in the brewing business and used to run a pub in Kent where he would often feature a variety of real ales.
Southbourne Ales owner Jennifer Tingay has been delighted to find someone who is such a good fit for the role. She told The Big Issue: "I have got to know him and heard a bit of his background and hiring him just seemed to be the perfect thing for both him and us. He's a confident public speaker, he's knowledgeable about the industry and he's got a really positive outlook so it is great to be able to give him this opportunity to progress."
Bill originally became homeless following a nervous breakdown brought on by constant overworking. In this time he lived in a tent, in a cave, anywhere he could find shelter. He finally made his way to Bournemouth where he connected with The Big Issue.
Once Bill began selling and trying to rebuild a life for himself, The Big Issue Foundation was able to support him in restoring his health, getting care for his dog Chloe and helping Bill secure a flat – a permanent and secure place to call home. You can read more about Bill's story here.
During the 6 years he was with us, not only did Bill sell the magazine, but he also helped us raise awareness at countless local and national events for The Big Issue Foundation and continues to be an advocate for our work.
Since moving on, Bill has organised two fundraising events at Poole Hill Brewery Taproom to raise funds and give back to The Big Issue Foundation and will also be taking part in this year's Big Night Walk.
We can't think of anyone who deserves this award more, please take a minute and vote for Bill!
Voting closes on 6th February 2019 and the semi-finals take place on 12th February 2019.