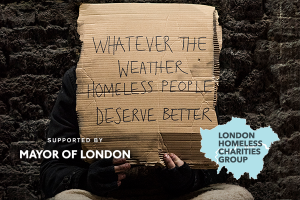 After it's overwhelming success, Sadiq Kahn is launching his rough sleeping campaign again for 2018. The Big Issue Foundation is pleased to announce that, alongside 21 other charities, we will be supporting the Mayor's efforts.
Last year the campaign raised nearly £200,000 pounds and we want to smash it again this year! That's why the Rough Sleeping Campaign has made it even easier for Londoners to donate. In partnership with TAP London, the campaign has installed contactless donation points across London. Now Londoners will be able to donate at the most convenient moment, out and about in the City. Donors will also be able to support the London Homelessness Charity Group via the GoFund me page.
The coalition of charities, known collectively as the London Homelessness Charities Group, all provide vital services for rough sleepers. Together, as part of the coalition the charities can provide an easily accessible single donation point. The combined efforts of these charities will ensure that London's homeless population will get the most expert help, attention and support that they so urgently need. All the funds generated will then be split equally between the 22 charities to make the maximum impact.
At The Big Issue Foundation, we stand behind the Mayor's campaign initiative 'whatever the weather, homeless people deserve better'. The Mayor's Campaign for this year has taken important steps to make sure that homeless people in the city will be supported in the most impactful way. For the first time, City Hall will co-ordinate the opening of emergency shelters across all boroughs. This means that shelters anywhere in the city will be open if the temperature drops below zero. This is just one of the crucial services that the campaign supports. Other initiatives include: doubling the number of outreach workers in his London Street Rescue team, improving mental health services and the expansion of the No Second Night Out service. The Mayor has also persuaded all London boroughs to sign up to his 'In For Good' principle – a promise that, when a rough sleeper goes to an emergency shelter, they will be accommodated there until a support plan is put in place to help them off the streets for good.
Every penny donated will help to support the work of each organisation and make this important work a reality. Please join us and donate today.