Big Issue vendors from EU countries face an uncertain future with the UK due to leave the EU in less than 18 months.
Vendors who are EU nationals could be left without support to assist them with applying for post-Brexit immigration status (settled status) because the Home Office is set to cut funding in mere weeks.
Fifty-seven organisations in the UK were granted a total of £9m from the department last April to provide practical support to an estimated 200,000 vulnerable or at-risk people applying to the scheme – which they must do in order to retain immigration rights after Brexit.
The support has only been guaranteed until March and the Home Office has announced no plans for any extension, refusing to guarantee any funding beyond March 2020.
The Big Issue Foundation has been working with Migrant Help to support Big Issue vendors with their applications for settled status. Migrant Help are a charity offering advice and support to refugees, victims of slavery and human trafficking and asylum seekers in the UK.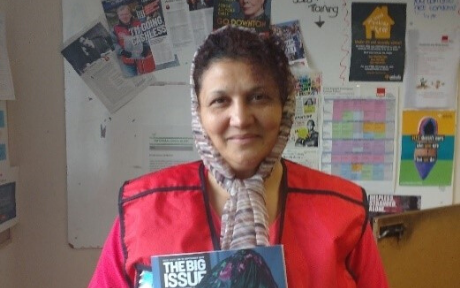 Migrant Help have supported us with vendors like Eleonora who applied with support and was granted settled status for her, her husband and their five children. Despite applications being open until June 2021, Migrant Help are also due to lose this funding at the end of March 2020.
As a result, a major focus of our work will be aiming to ensure any vendors who require settled status are aware that they need to apply. This will also ensure we are able to refer as many vendors as possible that require further support in making their application before funding ceases.
Although some applications for settled status may be quite straightforward, for many it is not. This is especially true of people in the homeless community and other vulnerable groups. Beth Lant, Caseworker Manager at migrant charity Praxis, explain why it is not as simple as completing a form:
"These aren't people who can apply quickly. Caseworkers are working with women who have experienced domestic violence, trying to collect evidence that they have been here for five years when they haven't got access to a lot of the documents they need; and people with mental health issues who don't have passports, helping them to approach their embassies to obtain the documents they need," she said.
An estimated 900,000 EU citizens in the UK have yet to apply for settled status, which most will need to remain in the country long-term after Brexit.