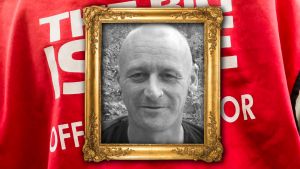 The Big Issue Foundation was saddened to hear that much-loved vendor Andy Rogers has died.
The Felixstowe based favourite had been selling to his customers in the seaside town for over 15 years and in that time had built up regular customers who nicknamed him 'Andy Two Dogs' because of his adoration for his two pet dogs who were always with him.
"Andy was a much-loved vendor in Felixstowe in Suffolk, he was a lively and friendly character who loved Tottenham Hotspur," said Jim Graver, The Big Issue's regional manager in East Anglia. "Andy was known to most as 'Andy Two Dogs' as his greatest love was his two dogs who were with him always and I understand they are being taken care of by friends."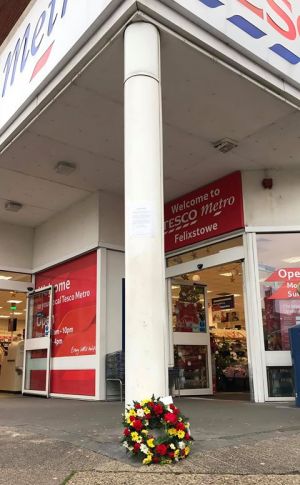 Many of his regulars reached out to pay tribute to Andy, who has become a regular part of their lives. One such regular, Anamaria O'Brien, said: "Oh this has made me so sad. I often bought the magazine from him. My heart is broken."
Oscar Charlton added: "Always loved talking to Andy, was such a genuine bloke with a positive attitude towards life. I think he'll be remembered around Felixstowe fondly"
Andy was also remembered by the staff at the Tesco branch where his pitch was based. They laid a wreath of flowers outside with a note saying: "Andy was often seen here selling The Big Issue and was known throughout Felixstowe town as a very friendly and approachable man. We are saddened by the recent news and as a team, we will be doing in a collection in store to support those nearest to Andy with the upcoming arrangements."
The collection went on to raise over £500 with contributions by both staff and customers of the Tesco branch. This has been given to Andy's next of kin to help with funeral arrangements.
His funeral will be held on 11th February at 10.30am to which all are welcome. The funeral will take place at Seven Hills Crematorium, Felixstowe Rd, Ipswich IP10 0FG
Andy's family have asked that no flowers be given, but please give any donations to his Justgiving page instead. The page, set up by one of Andy's regular customers Heather McAlpine, has raised over £700 so far which will help with funeral costs.