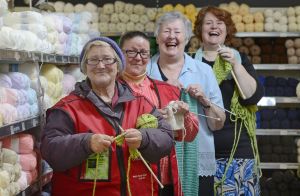 With the winter months on their way, we are pleased to announce that we are getting ready for our 5th annual Big Knitathon! This year, the Big Knitathon will span the whole of November, so Big Knitters will have plenty of time to enjoy the challenge.
We're looking for lots of knitters (including beginners!) to join us and help raise funds to support Big Issue vendors. There are so many ways to get involved, from selling your creations, to hosting a class, or getting sponsored for a knitting marathon. Thanks to our friends at Hobbycraft, we've created a new way of getting involved this year. On Saturday 12th November, Hobbycraft will be hosting special Knitathon areas in all of their stores nationwide for you to pop along to. In these areas you can knit for the day, sell knitted items, and meet fellow Big Knitters! The Knitathon area will be open from 10am-3pm on Saturday 12th November and you can find your local store here.
Whether you've been knitting for years or just picked up your needles, we would love to have you on board. In need of some inspiration? Take a look at Louise and friends blog about their successful Knitathon last year, raising over £1000. If you want to host your own event and would like some support, we've got balloons, t-shirts, collection tins, and sponsorship forms that we will happily send your way once you register with us. You'll also get links to knitting patterns from Hobbycraft and our friends at Let's Knit magazine.
Not much of a knitter yourself? Throughout the winter we are also encouraging supporters to host a Wear Something Woolly Day at their place of work, and this event is also perfect for schools to take part in a fun way. Read more here. Interested in crafts aside from knitting? If you'd rather host a crochet, cross stitch or paper craft-athon then do! Get in contact with us, we would love to hear all your unique ideas.
This year the Scottish Women's Institute (SWI) will be joining us again, knitting garments to benefit Big Issue Vendors in Scotland. If this interests you, check it out here.
If The Big Knitathon sounds ideal to you, you can sign up with us here. We've also got an information pack here, and if you have any questions, you can contact us at events@bigissue.com or on 020 7526 3459. All the money raised from the Big Knitathon 2016 will support the vital work of The Big Issue Foundation, so that we can help more Big Issue vendors in their difficult journeys away from homelessness.