After the tragic cancellation of The Big Night Walk 2018 due to freak snowstorms, we're so pleased to announce that registration for The Big Night Walk 2019 is open! Join us on Friday 8th March for the 9th annual Big Night Walk.
Founded in solidarity with rough sleepers who often find it safer to walk during the night rather than sleep on the city streets. Participants will have the opportunity to meet past and present Big Issue vendors who have benefited from the support of The Big Issue Foundation, with previous attendees including James Bowen and Bob from 'The Street Cat Named Bob'.
'One of the most powerful and magical nights of my life. Meeting and speaking with past and current vendors was extremely insightful and deepened my appreciation for the Big Issue and its noble work. Experiencing London in the wee hours was simply amazing and I made many new friends' The Big Night Walk 2017 Participant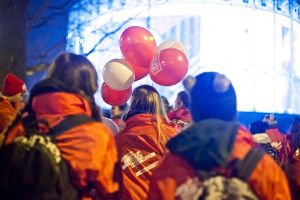 The walk will start and finish at Shoreditch Town Hall with three rest stops along the way to fuel you through the night. The route will take you through Camden High Street, Regents Park and the bright lights of Soho, as well as along the picturesque Southbank. Along your journey, you'll be guided and supported by a wonderful team of volunteers. We're also excited to be joined by dedicated fundraisers who, after last year's cancellation, immediately transferred their places to this year's Big Night Walk to continue their support of The Big Issue Foundation.
Stephen Robertson, CEO of The Big Issue Foundation, said: "We know how important it is for all of our supporters to come together to make a difference for people who are homeless across the country in these very 
difficult times however the health and safety of our participants is a priority and it is with deep regret we must cancel our biggest event of the year.
Our work continues regardless, and I am hopeful that participants will continue to fundraise, despite the cancellation, in the knowledge that every penny raised is vital in our support work and the journey of change we try so hard to create for Big Issue vendors."
The money raised from this flagship event will go towards ensuring that Big Issue vendors like Julie have the opportunity to take positive steps away from poverty and exclusion. Whether through finding housing, accessing healthcare or reconnecting with friends and family, The Big Issue Foundation's team of Service Brokers work with vendors to offer bespoke, inclusive and non-judgmental support. Your fundraising enables us to change lives, so get your friends, family and colleagues together and sign up today for £20 per person in a team of 5 or more!
Are you thinking about signing up alone? Each year, we welcome solo walkers to register at The Big Night Walk a bit earlier on the night, so you can team up with some new friends. You won't find yourself walking alone and you'll be supported all the way.
'All staff and volunteers from start to finish were incredibly enthusiastic and supportive' The Big Night Walk 2017 Participant
Feeling eager for an even bigger challenge? Tickets are now on sale for The Big Sleep Out too so why not take on both of our flagship events this winter!
Any questions? Please visit our FAQ's or alternatively, feel free to contact us via email at events@bigissue.com or call 0207 526 3456.