The Big Issue Foundation has just signed up to a new restaurant booking platform: ChariTable Bookings.
Simple make a free booking at over 4,993 restaurants across the UK online or via the ChariTable Bookings and £1 per diner will be donated to The Big Issue Foundation.
Works for Corporate bookings and individuals. Eating out now supports our work with Big Issue vendors across the UK.
Learn more about this great initiative by watching the video below: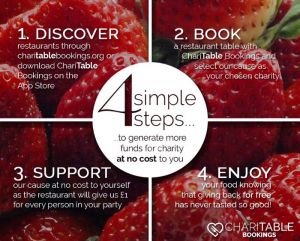 HERE'S HOW SIMPLE IT WORKS:
Book a table directly with the restaurant
Make free bookings at 4,993 restaurants easily via phone or online with the ability to cancel or modify at any time
Support a charity close to your heart with every booking
Select from 7,581 charities and £1 NET for EVERY diner in your party will be donated by the restaurant to a charity of your choice at absolutely no cost to you
Enjoy rewards & receive points for each booking
Sign up for a free account and earn 100 points = 50p for each honoured booking to redeem on restaurant vouchers or donate to charity
So why not take it further and support The Big Issue Foundation by making a booking with your favourite restaurant today! ChariTable Bookings is a totally free platform (website and App) which helps The Big Issue Foundation raise unrestricted funds at absolutely no cost to you or us!