On Tuesday 3rd December we are celebrating #GivingTuesday!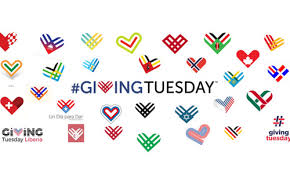 Giving Tuesday is a global day of giving, a day where everyone, everywhere can do something to support the good causes that mean so much to them.
We are encouraging our supporters to get involved by helping us raise funds and using their voice to spread the word of The Big Issue Foundation.
We are encouraging our supporters to get involved in a variety of ways:
Last year 1 in 10 people in the UK did something on the day and #GivingTuesday was the UK's number one Twitter trend. The campaign holds the world record for the most money raised online for charity in 24 hours, and last year raised $98 million globally via PayPal and more than £7.8 million online in the UK
Giving Tuesday is also a great way to get your workplace involved! We'd love you to take part in a fundraising activity at work to raise awareness and funds for the vital work of The Big Issue Foundation.
You can volunteer your time; donate money; share your skills; campaign for something; donate proceeds of goods or organise a community event. Our fabulous fundraising guide offers some great ideas on how you can make a difference.
Some fun ideas include:
Festive Bake Sale
Festive Dress Down Day
Festive Raffle
Festive Quiz
Many workplaces also offer matched giving. You can ask your company if they will match any funds raised by your activities to double the donations raised!
If you have any questions about organising an event at your work, get in touch with Serena Crisp on serena.crisp@bigissue.com