This week, the House of Lords received some very special guests when Lord John Bird, Big Issue Founder, invited vendors from across the country to a special reception at Parliament.
The reception saw Big Issue vendors, staff, friends and supporters come together for an afternoon.
When speaking on the event Lord Bird said:
"I'm 71, I'm showing off..this is a real privilege. Parliament is for everyone and that's exactly what this day is all about."
Lord Bird most recently launched The Credit Worthiness Bill which seeks to "help reliable rent-payers get the same advantages as reliable mortgage payers" by ensuring that consistent rent payments are viewed in the same favorable light as mortgage payments, hence helping renters access reasonable credit.
Sajid Javid, the Secretary of State for Communities and Local Government, was also in attendance and praised The Big Issue for their work in helping tens of thousands of men and woman lift themselves out of poverty since 1991.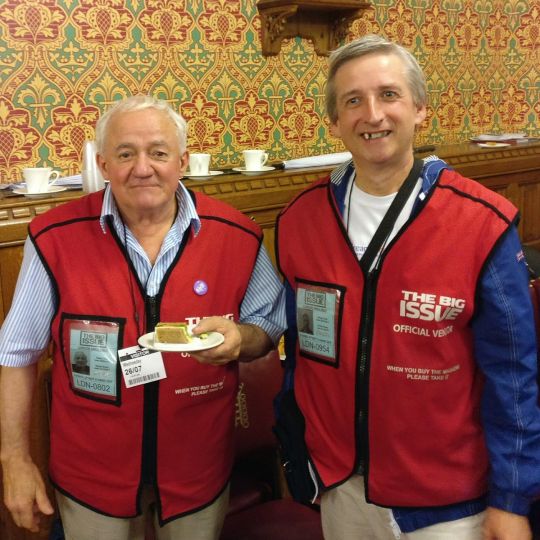 Donato and Tony enjoying some tea and cake.
BAFTA nominated actress and friend of The Big Issue, Andrea Riseborough, was also in attendance to show her support.
"It's a real pleasure to be here, to meet John Bird and the magazine vendors," Riseborough said. "I knew a lot of friendly faces selling The Big Issue growing up in Newcastle. They were a part of my community and life growing up. I now live in Los Angeles and there is a huge homeless community there. It breaks my heart to think that there are people out there who are struggling. The illusion that it's their own choice makes me angry."
Martha Luke, Service Broker in Bristol, brought a contingent of vendors in Paul from Bristol and Ian from Bath. They were very pleased to meet and discuss issues with Lord John Bird who has been instrumental in the fight against poverty.
Bristol Service Broker Martha Luke with Lord John Bird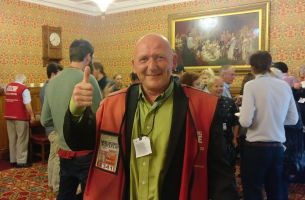 Exeter vendor Andrew
Exeter vendor Andrew said
"I've been looking forward to this for months. No one believed I was actually coming to parliament. Here I am!"