I'm sat in the Hens Wings, a virtual multifunctional venue space.  Here, I can have what I want: tea? Easy. Kitchen? No problem. 50 seater cinema? Yup, we can place it in *this* corner.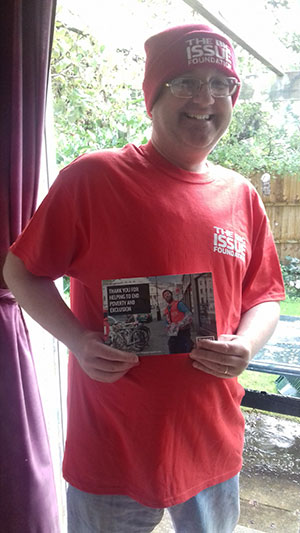 Now in its fifth year #HensWings has been the epicentre for the #notgb festivals.  Our motto is "It's just like being at home", reflecting the experience of those who are unable to be at the Greenbelt Arts Festival.
Which is how it started: back in 2013 I was unable to make it to this festival with my wife and son, and created this alternative #notgb40 with other "left behinds" on Twitter.  We had a bunch of seminars and people shared thoughts, prayers, memories, music, laughter, silly jokes, alcohol, food, films, sport, laminating, lurchers and badgers.  In the end a few dozen others got involved and through some synergy with the folk attending the actual Greenbelt festival we raised over £400 for The Big Issue Foundation. We've put together a couple of thousand quid over the last four years, all from "people at home raising money for those without one."
Why The Big Issue? I've been a buyer of the Big Issue for a long time and as a teacher and a Christian I'm very keen to see people reaching their potential. The Big Issue's, "A hand up not a hand out", helps people to make their own dreams come true by increasing their skills, self-confidence and self-esteem. Those of us taking part in #notgb largely share a Christian faith, and see this as a way of spreading God's love to those whom society as a whole rejects.
So, on August Bank Holiday weekend, come and join the silliness.  There will be, if you so choose, a range of food and drinks available at #HensWings and various other things happening at #notgb17.  It's a festival you help to build through interactions with others:
More importantly, there is an upturned hat ready for your loose change.  Please rummage hard at the back of the real sofa and donate real money to make a real difference to the lives of real people.
This is the 5th year Graham has supported The Big Issue Foundation and over the past four years has raised almost £2,000. If you would like to get involved this year, follow the hashtag #notgb17 on social media over the August Bank Holiday weekend. You can also make a donation here:
https://www.justgiving.com/fundraising/notgb17