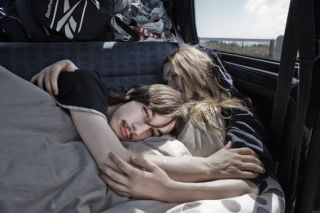 Paul Wenham-Clarke's brilliant photographic exhibition is free to see Bournemouth Library, 22 The Triangle, Bournemouth, BH2 5RQ
The show comprises a specially commissioned series of images by renowned photographer Paul Wenham-Clarke. The exhibition has already received the photography world's highest accolade – a Gold Award from the Association of Photographers.
Paul has photographed a series of Big Issue vendors in their "homes" – be they squats, hostels, caravans or nothing more than the street. Shedding light on the hidden lives of Britain's homeless, the portraits offer an insight into their background, their family situation, and the challenges they face while selling the magazine, their achievements and aspirations.
'When I met this young couple…they were living in car, they'd travelled down from the north of England assuming it would be milder. The portrait illustrates both their affection for each other and their predicament. They were a lovely warm couple who made me feel enormously welcome, however I was left distressed by the encounter, and found myself imagining how I might feel if these young people were my children.' Paul Wenham-Clarke