Harry McAdoo became a trustee of the Big Issue Foundation in 2012 having been a big admirer (and avid reader) of the Big Issue for a number of years. Harry is currently Director of Communications for ICAEW where he is responsible for helping the accounting profession engage with its many stakeholders. In April he ran the Paris marathon for TBIF. Here is his account of the run:
In April I ran the Paris marathon for TBIF. I did so mainly because of Richard.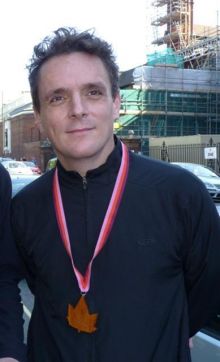 Richard is a published writer with two books under his belt on what it is to sleep down and out in Holland and London.  Until recently he also slept rough in Paddington Station.  This is not an easy thing to do.  For a start, if you want any heat during the winter months you need to find one of the bollard up lighters around the station to sit on.  You then need to be prepared to sleep sitting up.  You also need to be away before the police change shifts at 6.20am when you are otherwise forcibly moved on or ticketed to make sure you don't get in the way of early commuters.
Richard has sold me my copy of the Big Issue for the last 4 years now.  One day about 18 months ago he stopped me in the street in real distress.  "I don't mind if people don't buy the magazine Harry, but I have been standing here for three hours now and I just keep being ignored.  I'm desperate for some kind of human interaction'.
Homelessness makes us feel uncomfortable. A visible reminder of the misery and distress suffered by those who, for whatever reason, find themselves in a dark place. Running 26 miles is easy in comparison to having to sleep sitting up each night.  We need to tackle it – that is what TBIF is trying to do and that is why I was proud to run on their behalf.  It's not too late to donate:
www.justgiving.com/harrymcadoo
Harry McAdoo