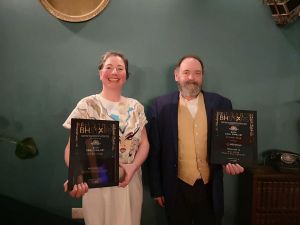 Last month we shared the news that former vendor Bill Webb had been nominated for the Rising Star Award at the 2019 BH Star Awards.
We are delighted to share the news that Bill has made it through to the finals on the 14th of March!
His workplace – Poole Hill Brewery – have also been nominated in several categories!
Thank you to everyone who took the time to vote!
The 63-year-old hung up his red tabard last April after getting a job taking customers around the Poole Hill Brewery just yards from his own pitch in the Dorset town.
And he insists it has been "a great year" that could be topped off with wins in the BH Stars Shining Star and Rising Star categories.
Bill could soon be toasting success after impressing customers with his brewery tours.
"I'm really proud and humbled at the same time," Bill told The Big Issue. "It's only been a year since I left The Big Issue and I have come so far. I'm really enjoying doing the tours, they are great fun. It's a job that I never thought that I would enjoy this much. It's been a great year."
"I've got a good feeling about the awards and I'll be making sure my tours are as good as they can be until then because there could be a judge among my customers watching me."
Bill still has very strong links with The Big Issue Foundation, even after securing his new role.
"It's only a few doors down so I still everybody and I'll also be doing The Big Night Walk in a couple of weeks' time – it's been good to give something back because The Big Issue did so much for me."
If you would like to support Bill with his fundraising efforts you can sponsor him here.
We wish Bill the best of luck and will let everyone know what happens on the 14th of March!