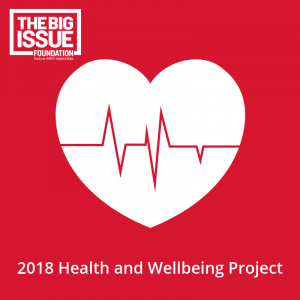 On 5th November The Big Issue Foundation launched it's 2018 Health and Wellbeing Project – a fortnight of activities focused on improving the health and wellbeing of Big Issue vendors.
Each year we run theme projects focussing on needs and future aspirations identified by our vendors. A regularly identified barrier to vendor progression is health and wellbeing. The Big Issue Foundation supports vendors with these issues year round however decided it is also beneficial to have a fortnight to specifically focus on this key area.
In 2015, Homeless Link completed a Homeless Needs Health Audit to assess the health needs of people who are homeless to help develop responses to local priorities and address gaps in services. Of those interviewed, 78% of respondents reported a physical health problem and 44% had a diagnosed mental health condition. In terms of addiction, 21% of respondents said they had a problem with alcohol and 41% either used drugs or were in recovery.
The Health Project seeks to promote, inform and encourage positive health among Big Issue vendors. It focuses on improving the mental and physical health and wellbeing of vendors covering screenings and vaccinations, nutritional advice and guidance and health needs relating to alcohol, drugs and sexual health awareness.
At various points throughout the project, there will be organised drop in's for vendors with NHS services providing flu jabs, dentistry, podiatry and addiction advice and treatment services.
There will also be a focus on healthy eating throughout the project, In Birmingham, they will be hosting a healthy eating workshop featuring a cooking session with a chef on how to make low cost, healthy soups. We are also very grateful to Pret A Manager will be providing free breakfasts and healthy snacks on several days during the fortnight.
There will also be services set up to give vendors a feel-good factor with treatments such as haircuts and manicures being offered by kind volunteers who have given up their time to support Big Issue vendors.
In London, health packs will be offered to vendors which will include toiletries such as toothpaste and shampoo. The products have been generously donated by Beauty Banks and King's College Hospital in Denmark Hill. The packs will also contain contact details for community dental practices and other helpful information for vendors.
The clear theme which underpinned all activities throughout the week was enabling vendors to identify health needs and learn how to access appropriate services. For many of our vendors, health services are only accessed in times of crisis. The Big Issue Foundation exists to connect vendors with the vital support and personal solutions to enable them to rebuild their lives; to determine their own pathways to a better, healthier and happy future.