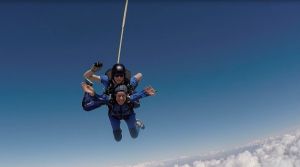 With a 60th birthday coming up I was looking for a challenge that was outside my comfort zone, and not being very fond of heights, decided that jumping out of an aeroplane would fit the bill!  Most of my family and friends thought I was mad, but have been very supportive.  It was great when I saw that the Big Issue Foundation offered a SkyDive as one of their fundraising events – I always buy a Big Issue from local vendors and love their philosophy of 'a hand up, not a hand out', so it was perfect to channel my nerves by raising funds for the Foundation.
The fundraising has gone really well and seems to have had a momentum of its own.  I set up a Just Giving page, shared it on Facebook – which other people then shared; I put a notice in our church newsletter; and I advertised a 'Charity Cake' event over 2 days at work (with my daughters and I baking like mad on one of the hottest days of the year!) – where as well as people putting donations in the collecting box, some also donated online. I also asked for donations instead of presents for my birthday. To date I've raised nearly £1000, with more donations now coming in, since I shared the photos of the SkyDive!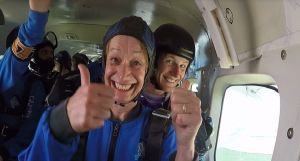 Before the SkyDive, someone had asked how I was preparing for it, to which I replied 'by not trying to think about it!'.  But the morning arrived and I duly turned up at Go SkyDive at Old Sarum airfield with my husband, Pete, at 8.00am.  At this point I felt a mixture of excitement and apprehension….It was a beautiful sunny day, and as soon as we arrived, I was made to feel welcome, and booked in, followed by an 'induction' – this was to tell you what was going to happen and put you at ease…. At this point we realised I probably wouldn't have too long to wait, so Pete rang our 2 daughters to tell them to get here as soon as possible (an hour's drive from Swindon where we live) or else they'd miss me!
The waiting was the worst bit – I now had butterflies, sweaty palms  and felt slightly nauseous!  But once called through to the training, where we were kitted up in jump suits, and learnt the position for leaving the plane, and for landing – this turned into nervous energy, and there was soon a cameraderie with my fellow jumpers which helped.  We then went out to the 'departure lounge' (don't get excited – it's a fenced off bit of grass!) to meet our tandem instructors.  Nick introduced himself, and he was just great – made me feel comfortable and special.  There was a 'before' interview and video -with my daughters Holly and Sarah, who had made it in time – and then it was off to the plane.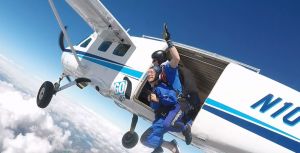 We were going to be second jumpers out, so were near the door.  Nick kept showing me how high we were (though it was quite evident by looking out of the window!)…. He then tightened my harness to his, the door was opened, and it was goggles on.  At this point I was feeling very calm and peaceful – there was no backing down now – I was going to jump and I was damn well going to enjoy it!  I can't remember how we got to the door, but I do remember the expanse of blue sky with a few white fluffy clouds below and then the ground a very, very long way below.  And then we were off.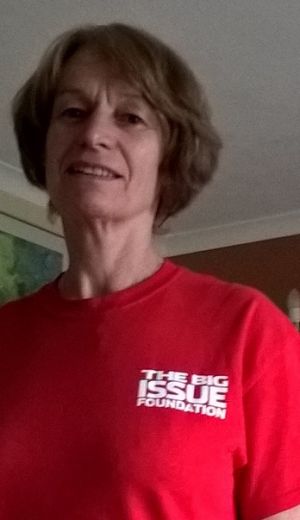 That first feeling of freefalling was just AMAZING ….. it's hard to describe what dropping at 125mph feels like, but to me it was liberating, exhilarating and completely mind-blowing.  I kept my eyes open, kept smiling and waving and just loved it.  Then I felt a pull upwards and realised that our parachute must have opened, and we were now starting to drift through the sky.  Now Nick and I could talk and after he'd confirmed that I was feeling good, we had a great time, chatting about the amazing views and landmarks, showing me where my family would be and where we were going to land; and letting me steer and swoop right and left.  It was so quiet and beautiful, I could have stayed up there for ever.  But soon we were gliding in to a very gentle landing.
Nick had to get back quickly for another flight, so we had a hug, and said goodbye and I then enjoyed watching my fellow jumpers land. We all happily chatted and shared our experiences on the drive back to the family area – everyone was buzzing.  We returned our jump suits, and I was reunited with my family – hugs all round and a real feeling of elation.  We waited for my video, and it was good to just sit and take everything in, and what I'd just achieved – they talk about 'harnessing fear' and it did feel like I'd done that and as a result received the best reward ever!  I'd definitely do it again and recommend it to anyone – and the video and photos are a wonderful memory. The Go SkyDiving team were so professional and caring  and it was just a fabulous, incredible experience.  As Mark Twain said, "Twenty years from now you will be more disappointed by the things you didn't do, than by the things you did do" – so go on – go for it and just Do It!