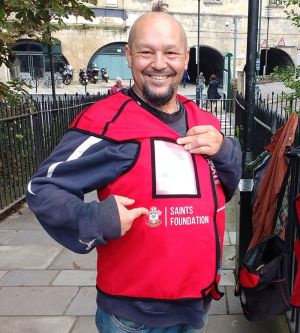 We are very sad to report that beloved Bath seller, Istvan Kakas, who once received an award from the city mayor for his life-saving heroism, has died following a battle with leukaemia.
The 52-year-old seller lost his life at Bath's Dorothy House Hospice on Tuesday afternoon after a battle with leukaemia. Istvan was a much-loved and well-known figure on his pitch at Halfpenny Bridge in Widcombe, Bath. He was renowned for decorating it with flowers as well as tinsel and toys at Christmas time and for keeping his busy pitch tidy using the trusty broom, which he also used to save lives…
That broom proved essential when he was called into action to rescue a father and his child when they fell into the River Avon in 2014.
The eight-year-old girl had been on a cycling trip when she fell in to the water and her father dived in to her rescue but got into difficulty. Quick-thinking Istvan extended his broom to pull the pair to safety and save their lives.
The modest vendor said that he couldn't believe that crowds of onlookers were filming the incident, insisting, "This wasn't a film, this was real life".
Speaking after his life-saving antics, selfless Istvan said: "It was just a normal Sunday morning and then I heard a high-pitched scream.
"I looked around and could see nothing and then I spotted this little pink helmet in the water.
"I just reacted. The girl's dad had jumped in and they couldn't get out so I grabbed the broom, ran over to the other side of the bridge and used it to pull them up. It all happened really quick.
"I was so scared for the poor girl, she looked in shock and her family were terrified. I'm just glad I could help. I would've jumped in myself if I couldn't help with the broom."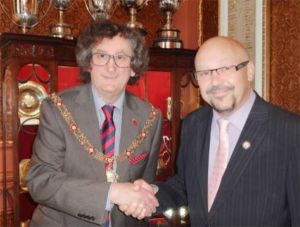 Istvan's heroism saw him receive the much-coveted Mayor's Citizen Award a few months later from then-Bath Mayor Malcolm Lees (pictured).
Local police officer Gemma Kirby, who attended the awards ceremony with him, said at the time: "Whatever the weather he greets people with his friendly smile and a cheerful hello. Istvan's presence on Ha'penny Bridge is undoubtedly positive to the local community; he engages with all and asks for nothing in return."
Originally from the Hungary, Istvan began selling The Big Issue in Bath in 2010 in the latest stop in a life that had seen him work as a chef under Gordon Ramsay and Michael Caines as well as completing more than 250 parachute jumps while on military service.
Speaking in 2014 about why he worked so hard to keep his pitch tidy, he said: "I do my best to keep the area looking nice, that's important to me. I get on well with everyone and lots of people know me.
"I was given the broom because my pitch is on private property and the council don't look after it. I was happy to help keep it clean but I never imagined I'd use it for something like this [rescue]."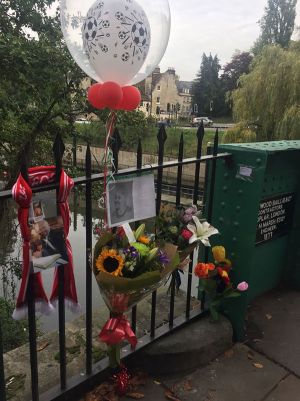 In the wake of his death, his pitch on Halfpenny Bridge has been covered in flowers and tributes from his regular customers.
Geo Leonard, Big Issue Foundation Service broker in Bath and Bristol, said: "Istvan will be deeply missed by all of us at The Big Issue. He had an incredible life and he was incredibly well thought of. He was very well looked after and supported at the end of his life and he would have been thrilled to see how many more people care so much for him and recognise his impact within the community.
"I would like to say thank you to Dorothy House Hospice for the terrific care that Istvan received in the last days of his life and I would like to say thank you to his regular customers for the help and support that Istvan received during his eight years of selling The Big Issue and over the last few weeks."
Istvan will be laid to rest at a funeral at St Matthew's Church in Widcombe with a date still to be confirmed.
Words by Big Issue Staff Report Liam Geraghty