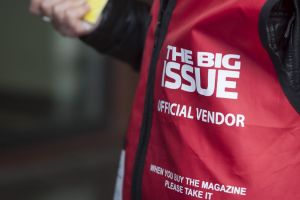 As the weather gets colder, we, as a society, tend to become more aware of rough sleepers and those with unstable shelter. We often are asked how people can support Big Issue vendors during the winter period, the answer is simple, buy a magazine. By taking the magazine, you're helping them to earn a living. Chat for a while too.
But of course not everyone in poverty or homeless is selling the Big Issue magazine, so there are other important ways you can make a difference.
Can I approach someone on the streets?
One of the simplest and most effective ways to help rough sleepers and homeless people is just to have a chat to them. Not only does rough sleeping make day-to-day life incredibly difficult it's also lonely, and Britain's mental health crisis is prevalent on the streets too. Take a minute to ask how their day is going, and if there's anything that need or want. You could be surprised. This is providing it is safe and ok to do so – your safety is first.
I'm worried about someone's wellbeing, who can I contact?
To connect rough sleepers with services that can help in England and Wales, send an alert to Streetlink – an organisation that connects people living on the streets with local authority and outreach teams to get them support. In Scotland, services provided by charities such as Turning Point and Shelter Scotland also go a long way in helping homeless people.
Organisations like The Pavement, have a services and facilities directory you can search through to connect a rough sleeper or vulnerable person to, and you can search by city/geographical area (or any combination of these).
And you could always put a homeless people in touch with one of The Big Issue's distribution offices all over the UK to give them a chance to get a hand up, not a hand out. They will then have the opportunity to be connected to services and support through The Big Issue Foundation.
Should I give food and drink?
Many rough sleepers will be appreciative of food or drink, especially in cold weather. But don't assume it's necessary. A hot drink will be welcomed by some, but it's better to ask if they need anything specific.
What about clothing?
With the winter approaching, clothing donations can also be vital. But always ask the person whether they want the items. If it's pouring with rain, then a spare umbrella will never go amiss. Otherwise, use Google to find your nearest clothing bank – and look up your nearest Wrap Up campaign, which provides coats to homeless every winter.
How can I best help Big Issue vendors?
People selling The Big Issue come from a range of backgrounds and unique circumstances – but they all have something in common: they are trying to work their way out of poverty.
The best way you can help a Big Issue vendor is to buy the magazine. Vendors buy their magazines from The Big Issue for £1.50 each and sell them to their customers for £3.00 a time. They are working, not begging. That benefits the vendor and also ensures the magazine can continue to be there for other people who need the opportunity to get a hand up.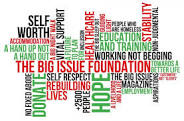 How can individuals and companies help The Big Issue Foundation to help the homeless?
The work of The Big Issue Foundation is not funded from sales of The Big Issue magazine, instead 99% funded through voluntary donations. It is only because of the generosity, commitment and belief of our supporters that we are able to do our work, which is to connect vendors with the specialist services and personal solutions that enable them to rebuild their lives.
We are grateful for whatever way you choose to support us. Here are just some of the other ways you, your family, friends and colleagues can get involved.