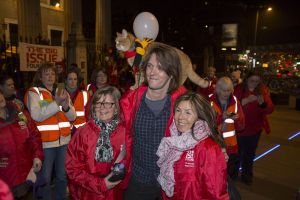 We are excited to announce that former Big Issue Vendor James and Street cat Bob will be returning to The Big Night Walk for 2019.
The annual 13 mile walk across central London offers walkers a chance to take to the streets to end poverty and exclusion for Big Issue vendors – a cause very close to the hearts of James and Bob. The dynamic duo rose to fame beyond their customer base at their Covent Garden pitch after the release of biography 'A Street Cat Named Bob'. The book went on to sell over a million copies in the UK alone and inspired an award-winning film of the same name.
Since then, the pair have continued to highlight the vital work of The Big Issue Foundation. Back in 2014, Bob starred on the front cover and it was one of the most popular issues of The Big Issue to date.  James commented, "One of the best things in my life now is that I can help people and animals who are still voiceless and invisible to be heard and seen. It makes me proud that the book has opened people's eyes to how The Big Issue works! That selling The Big Issue is an actual job! The work that The Big Issue Foundation does in supporting Big Issue vendors is so vital."
More recently, James and Bob have been busy releasing 'The Little Book of Bob' along with their Christmas single Time to Move On. Inspired by his experiences of rough sleeping, James said to The Big Issue, "I'm very proud of the song. It has come out so beautifully. The police always say, 'Time To Move On' and kick people out of doorways. So this is a very personal song. You can hear that, right to the last line, about walking through the night until the dawn when you can sleep safely."
The danger of bedding down on the streets of London that James describes is experienced by many rough sleepers across London and this is the inspiration for The Big Night Walk. Founded in solidarity with those who must walk the streets of the capital at night, the event gives participants the opportunity to see the city they know in a whole new light alongside the Big Issue vendors who know it best. The money raised through The Big Night Walk enables The Big Issue Foundation to support more people who find themselves in James' situation before he met Bob – sleeping rough, fighting addiction and in need of somewhere to turn.
It's not too late to join James, Bob and The Big Issue Foundation on Friday 8th March at The Big Night Walk-  sign up here before tickets sell out!