Applications are now open to take part in Prudential Ride London to support Big Issue vendors- sign up here!
The Prudential Ride London sees 25,000 riders take to the streets of London and Surrey to complete a modified version of the 100 mile Olympic Road Race route, made famous at the 2012 Olympics. Starting in Queen Elizabeth Park, you'll cycle on closed roads through the English countryside and into Surrey, before finishing back in The Mall in central London again.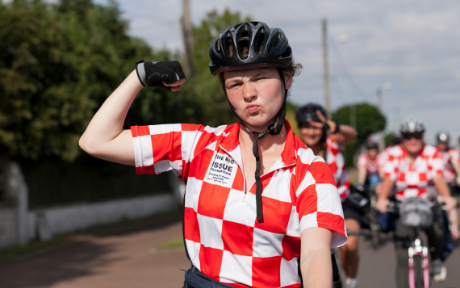 By cycling for The Big Issue Foundation, you'll be supporting vendors like Dariusz to regain their independence, access vital health services, and be supported to battle additions.
"My life could have taken a very different turn at several points in my life. The Big Issue is a big help for people who struggle in life, that's for sure.
The staff at The Big Issue don't judge your circumstances, all ages and backgrounds sell the magazine. They provide an alternative to begging and that is a great thing. I think it is important to support The Foundation as they are really helping people who are trying to better their lives."
2020 marks The Big Issue Foundation's 25th Anniversary and what better way to commemorate this than by getting involved with a new challenge!
Through The Big Issue Foundation, you'll be given expert fundraising advice as well as a branded cycling jersey to wear with pride. Dom, a former Ride London participant, shared his experience of the ride:
"Amazing experience of the city becoming your own personal cycle lane. Canary Wharf, St Paul's and the huge morning queues at the museums in South Kensington were standout moments, as well as glimpsing the Mall and the finish line 95 miles before the end! Before you hit mile 40, there's a brilliant tour of the towns and villages to the south west of London. "
Does the Prudential Ride London sound like the challenge for you this year? Apply here.
If you have any questions about Ride London or need any other information, please feel free to contact us on events@bigissue.com or 0207 526 3456.