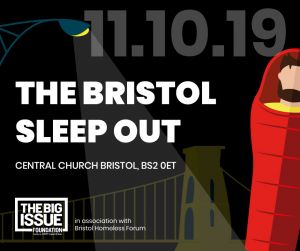 Join The Big Issue Foundation and Bristol Homelessness Forum for the annual Bristol Sleep Out on Friday 11th October.
The cold autumn night at Central Church will see Bristolians giving up their beds for the night to highlight the reality of homelessness and poverty in the city. The night will provide a small insight into life without a place to call home and raise vital funds for projects across Bristol.
The event follows World Homelessness Day on Thursday 10th October and precedes Homeless Sunday on 13th October, a day when local churches and faith communities unite and show solidarity with those experiencing homelessness. The series of events hope to raise awareness of a growing humanitarian issue, fundraise for local homelessness charities and present a space to plan practical action on homelessness.
The Big Issue Foundation count many rough sleepers among their vendors in Bristol and work together in partnership with other agencies in the area to help them take steps away from poverty, through access to housing, health services, training, education, and employment support.
Sign up today and you can help more Bristol based Big Issue vendors like Michael access the guidance they need.
"I was completely shut off and The Big Issue has helped me become myself again. I've found new things about myself and with the support of the Foundation I've been able to slowly go on this journey and find my own path."
So grab your sleeping bag and register to join The Big Issue Foundation's team. You can sign up alone or with friends for just £10 per person with an aim to raise £200 – you'll have a dedicated team of fundraisers behind you to offer any support or advice you might need. You can read more and sign up here to help us fight the battle against poverty and exclusion for Big Issue vendors.