"Running the 2017 London Marathon for The Big Issue Foundation is an experience I won't forget.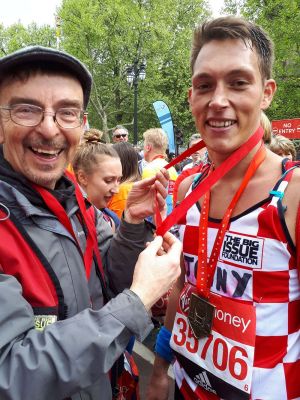 The atmosphere on the day is brilliant – from the communal excitement (and pre-race nerves!) as you stroll towards Greenwich Park with legions of fellow runners, to the crowds cheering your name as you cross Tower Bridge in the sunshine at the halfway point.
It is, of course, a tough challenge. But the cheering crowds, the pounding beats of the live bands, the memories of those months of winter training, and, most importantly, the knowledge that you're doing this for a fantastic cause, is just enough to keep you going all the way to the finish line on the Mall.
My 'bright idea' to try and boost my fundraising efforts was to also sign up to the Edinburgh marathon and ask for sponsorship for both events together. Edinburgh takes place 5 weeks after London, so as I now restart my training (and question my sanity), I'm thinking ahead to pulling on the TBIF vest again, knowing that I will be helping to make a big difference to the lives of vulnerable people across the country empowered by the fantastic work of TBIF."
Jonny is pictured with Big Issue vendor George at the London Marathon. There's still time to sponsor Jonny for his incredible double Marathon efforts and he will be running The Edinburgh Marathon on Sunday 28th May: www.virginmoneygiving.com/JonathanCarver/1