I was on the tube reading a copy of The Big Issue Magazine when I came across the advert looking for a Christmas volunteer. I graduated from Uni in the summer of last year and had decided that I wanted to look for work in the charity sector.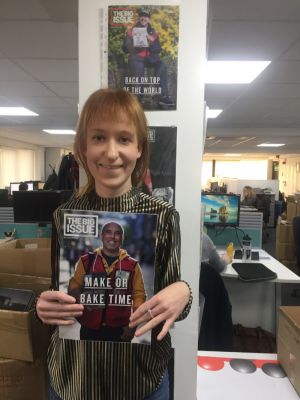 My experience of the sector before this point was limited, I had been working part time as a receptionist in another charity and had gained some events fundraising experience whilst I was at school. From what I could see of the jobs I was looking at, I needed a bit more hands-on fundraising practice before going into full time work.
When I saw the volunteer position advertised, I was excited to apply. My family and I have always been regular readers of the magazine, supporting a local vendor that works near to us. Since moving back to London after university, it was also clear to me that homelessness was an issue which still urgently needed to be addressed. The chance to work with The Big Issue Foundation seemed like a great opportunity to do my bit to help on an issue important to me, alongside gaining a valuable insight into the workings of a successful charity.
It is now the end of almost three months volunteering with The Big Issue Foundation and I have enjoyed every minute of it. The team are truly committed to helping vendors strive for a more hopeful future. They do an amazing job in campaigning to make the aspirations of vendors a real possibility. Their dedicated and ambitious outlook is essential in addressing the challenges faced by the homeless community.
From a personal perspective I have learnt so much. I've been supported from the outset to get involved with a variety of different tasks, ranging from writing stories for their website to getting to grips with data management. It is been great for me to get such a broad experience with fantastic guidance from the team. I am now about to start a job in another charity and I feel so much more confident because of the help The Big Issue Foundation have given me. I would recommend getting involved to everyone!!
Thank you so much!!
Following on from her experience at The Big Issue Foundation, Karina has secured her first fundraising role in the charity sector. We are so delighted we were able to help Karina develop her skills and confidence to secure this position.