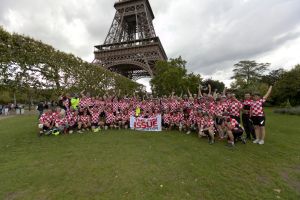 Be a part of The Big Issue Foundations tenth anniversary London to Paris cycle challenge and tackle homelessness along the way.
Following the cycling fever surrounding the recent Tour De France, we have just announced our London to Paris cycle ride taking place next year on 19th-23rd April next year. The London to Paris ride will be particularly special this year as it is the 10th anniversary of this challenge, meaning a decade of fundraising whilst on two wheels.
The ride will take place over 4 days where participants will make their way through traditional English villages into the historical areas of rural France before arriving in Paris. The event has always proved to be popular with people of all sporting backgrounds, so whether you have completed a cycle challenge with us before or your bike is sat in the shed, all participants find the London to Paris ride a fantastic event!
We are delighted to be working with 'Do it for Charity' this year as their charity of the year for the ride.
For more information on our London to Paris cycle ride please click here and you can register here. Also check out the photo galleries from last year's L2P ride to get a feel of this fun and exciting event!