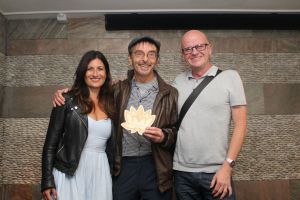 The Big Issue Foundation's partnership with Southampton FC/Saints Foundation, won a Sustainability Award at the Lotus Awards last Friday.
The Lotus Awards recognise organisations that foster a creative, collaborative workplace culture to enhance performance and sustain a competitive advantage by improving employee engagement.
Announcing and presenting the awards on the night were Big Issue vendors George and Andre whilst Big Issue vendor Dave sold the Big Issue magazine at the event.
Stephen Robertson, CEO of The Big Issue Foundation, commented:
'It is an honour to have the work of The Big Issue Foundation recognised for the second year running. My thanks to the judges for their support.' .
Greg Baker, Head of the Saints Foundation, said:
We are really proud that our partnership with The Big Issue has been recognised by winning a Lotus Award. From the launch of our world-first match day magazine in August, and throughout the subsequent employability programme delivered for Big Issue vendors at St Mary's Stadium, it has been clear that the values and objectives of the two organisations align perfectly. We are delighted that the success of the partnership has now been recognised externally, and to win such a prize is testament to the hard work put in by all concerned, not least the vendors themselves".
Serena Crisp, Head of Partnerships and Philanthropy at The Big Issue Foundation, added:
'It has been great to work with Southampton Football Club and the Saints Foundation over the past year offering numerous opportunities to Big Issue vendors . We are now looking forward to an inaugural Big Stadium Sleep Out, in partnership with the Saints Foundation, at St Mary's Stadium on the 30th November 2018'
John Bird, Founder of the Big Issue also won the Lifetime Achievement Award. He received the award with an engaging and humorous speech!