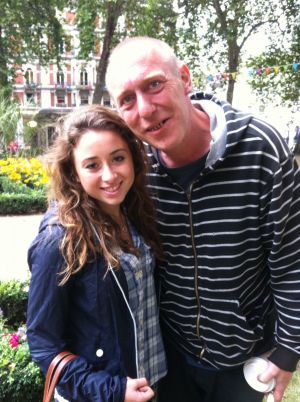 Over the summer holidays I have had the privilege of working within the fundraising team for The Big Issue Foundation. Over the week I leant a lot about the charity and their aims and how they make a difference, while expanding my knowledge on the huge problem of homelessness.  One thing in particular that I learnt to understand was the slogan, ' A hand up, not a hand out', which I think is the unique quality that The Big Issue Foundation possesses, helping the vendors to help themselves so they make a long term difference, improving their lives and helping them get back on track.
On the last day I was lucky enough to be present for the experience of going onto the streets and putting myself in the position of the vendors' selling The Big Issue magazine. This was the first time that employees in the office had the chance to do this so everyone was feeling a bit nervous, including myself.
I was paired with another volunteer and we got put with a vendor called Andy who gave us both three magazines to sell, which turned out to be a bit ambitious. We stood outside Victoria Station for two hours attempting the job of the vendors; we all knew it was going to be hard but never imagined to that extent.
After selling one magazine pretty early on I was in a good mood, however, that was the only one I did manage to sell. After being ignored repeatedly, avoided, rejected, it takes a lot to carry on, especially when hundreds of people refuse to acknowledge your existence. But this makes it so much more special when someone does makes eye contact and smiles at you, or just says a simple 'no thank you', you realise that you are not invisible and it is these small actions of politeness that keeps you going.
"Being a volunteer has been one of the most incredible experiences, putting myself in the vendors shoes has made me realise just how difficult their job is and I respect them so much for doing it all day every day as it can be very disheartening. It has taught me how far small actions of politeness can go and from this I will make sure that I will always acknowledge people and give them a smile, as I too have once been in their position."