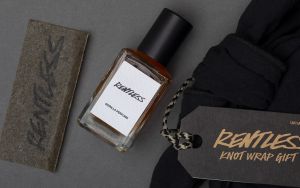 Cosmetics favourite Lush has always worn its ethical heart on its sleeve, and this week we're delighted that the chain is supporting our work by donating the sales from its Rentless range to The Big Issue Foundation.
The full Rentless range includes:
Rentless perfume 30ml and 100ml sizes
Rentless solid perfume
Rentless washcard
Rentless perfume gift
From December 10th-16th, all profits from UK and Ireland sales of the perfume will be donated to us to support our work enabling vendors to take positive steps forward in their lives.
The Rentless range was inspired by a chance meeting between photographer Hal Spencer whilst on holiday, with a man in LA called Tachowa. Inspired by their meeting, Hal made a short film about Tachowa and his story also went on to be turned into a play at the Edinburgh fringe. I stand out quote from him, "I've never been a homeless man. I've only ever been a rentless man." led to Lush's head perfumer to get in touch and create the range. You can read the full story behind the fragrance here
Lush Co-founder and Managing Director, Mark Constantine, was homeless for a time when he was younger. Following a break down in the relationship with his mother and stepfather, Mark found himself homeless at just 16 years old. He lived in a tent in the woods whilst working every hour he could to afford food and clothing. Luckily, it wasn't long before close friend, Jeff Osment's family took him in but the experience left a lasting impact on him.
From its humble beginnings in Poole to becoming the global phenomenon that it I today, more than 3,500 charities have benefitted from the generosity of Lush who to date have donated £50m to worthy causes across the world. They also work closely with Joshua Coombes, a stylist who gives haircuts to the homeless.
Mark, spent time with The Big Issue team to offer insight on all things Lush, his life and biography, Dear John: The Road to Pelindaba by lifelong friend Jeff Osment. You can read the interview in this week's edition of the magazine available form your local vendor and from The Big Issue Shop.
Treat yourself or a loved one this week with an item from the Rentless perfume range.
The Rentless Range raised over £5,100 for The Big Issue Foundation in December! Thank you to everyone who purchased a product and in turn raised vital funds for Big Issue vendors across the country.