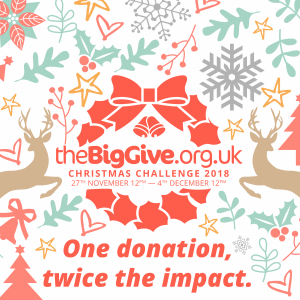 The Big Issue Foundation is excited to announce that we have been chosen to take part in this years Big Give Christmas Challenge. The Christmas Challenge is an online match funding campaign that matches donations made to the listed charities across one week. Beginning at 12pm on Tuesday 27th November (Giving Tuesday), and running until 12pm on Tuesday 4th December, all donations made via The Big Give platform will be doubled. In that week, one donation can make twice the impact.
This Christmas Challenge is the UK's biggest online match funding campaign. Since it began in 2008 The Big Give has helped to raise over £90 million for thousands of charities. There will be 589 charities taking part this year and we want this year to be the best year yet!
Money donated to The Big Issue Foundation will be put towards The Vendor Support Fund. Through the fund, The Big Issue Foundation aims to give vendors the chance to regain their independence and find their place within in mainstream society again. This will enable vendors that access the fund to gain access to vital core services such as Healthcare, Housing and Employability programmes.
Our champion for this year is The Reed Foundation. They will match any donations made. Chaired by Sir Alec Reed, The Reed Foundation aims to improve the wellbeing of people across the UK. This is a great chance to work in partnership with them to smash our fundraising targets and make a significant difference to the lives of the people we support.
We are aiming to reach a total of £15,000 including our matched giving. Donations can be made from £5 up to £5,000 and any donations given via the campaign will be doubled until our matched funding runs out!
UPDATE: After just 18 hours we hit our target! Thank you to everyone who donated to our matched giving appeal! We are still raising funds for our vital work this winter – please consider donating to our Winter 2018 appeal!